On the AEW Dynamite Pre-Show from August 27th 2020, Tully Blanchard made a point about the upcoming tag team gauntlet match that has stuck with his charges in FTR ever since. A point they have brought up in multiple non-kayfabe interviews as something he has legitimately taught them about the wrestling business: always turn your advantages into a disadvantage in the eyes of the viewer, and never let them think you've had an easy path, even as a heel.
As the number one ranked tag team in AEW, FTR were given the opportunity to enter the number one contenders match as the fourth of four teams, meaning their eventual opponents The Young Bucks had to compete against two other teams ahead of facing them. Normally, this would be seen as an extreme advantage, with your opponents battered and bruised, entering later leaves you fresh as a daisy. What did Tully note, so simple in its explanation that it's stuck with not just myself as a fan since then, but also Cash & Dax who have been doing this for years? "We're gonna be cold. So it may be a bit of a disadvantage to be coming in last."
While on this occasion he spoke about a gauntlet match, in the run-up to the first of WWE's big four pay-per-views for 2021, I'm interested in finding out what set of circumstances leads one most to success, in the titular Royal Rumble match. Do competitors with an earlier entrance position win more often, under the mentality of "putting your best foot forwards" and presenting to the fans true superstars early on to keep them entertained? Does the old stereotype of coming in later truly maintain, and Tully's point invalidated? How much effort should one put into eliminations if they're ultimately going to win? And what are the best numbers to enter? All can be found below.
"And the winning number is…"
Firstly, dead numbers. These are positions of entry into the match which have yet to ever yield a winner. In the history of the Royal Rumble match, there are a handful of numbers whose entrants have never been victorious. Those numbers are: 4, 6, 7, 9, 11, 12, 15, 20, 21, 26. If your favourite comes out in any of these spots on January 31st, be wary. They're either going to make history or be lost in the annals of time.
In contrast, it is well documented that the number with the most victories in Rumble history is number 27, with four wins in the history of the competition. That being said, the second most is the final number 30 (egg on the faces of myself and Tully Blanchard then).
For my money, the most prestigious spot is to win from number 24. It's a position that still makes the competitor work for the victory, but not so late into the match that a win is discredited by coming in as one of the final entrants. It also means that the victor has an opportunity to show what they're made of, without being "over-exposed" through a longwinded match. The three previous winners to have come from the 24th position are three of the faces on WWE's Mount Rushmore: Hulk Hogan, Steve Austin and The Rock. If a star is coming out at this position, I personally will be keeping an eye on their progression.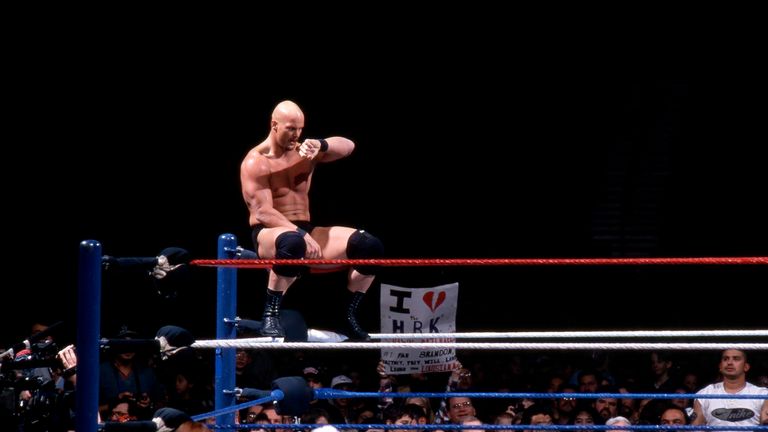 Unfortunately, given I started this article talking about the purported negatives of entering later in contests such as these, statistics are on the side of the latter stages of the Royal Rumble match. Considering every match since the original was won by "Hacksaw" Jim Duggan in 1988 (ignoring "The Greatest Royal Rumble" from 2018), 80% of winners came from the latter half of entrants.1
To dissect this even further, 63% of former wins have come from positions 21 through 30. Tully Blanchard and I stand corrected, it pays for the bingo balls to drop in your favour.
A Winning Perception
But much like bingo itself, every ball could fall in your favour, but that doesn't necessarily mean you'll win the prize – someone can shout bingo louder, and someone can perform better at Wrestlemania. In this sense, Royal Rumble winners aren't always successful when the biggest night in sports entertainment roles around, with only 57% of winners going on to find gold at the "Showcase of the Immortals". While in Kayfabe that may be considered a failure, the reality is that the Royal Rumble doesn't need to create a new champion necessarily, it just needs to either ignite a shooting star or keep another's flame alight. The winner should either go on to be a main eventer or be one that needs another string added to their bow.
Sixteen of the Thirty-Five winners throughout the history of the competition had already won a major title within the WWF/WWE prior to becoming a Royal Rumble winner. This indicates that their wins were either a launch pad into the Wrestlemania World Title picture as part of a storyline/outside of one or to return them to a position of strength prior to the show of shows. Of those that went on to win the title at Wrestlemania, for nine of them, this was their first major title win within this company. Of the ten that remain, both having not worn the WWF/WWE/World Title belt prior to their Royal Rumble victory, nor went on to win their first title at Mania, only three went on to win their first title within that next calendar year.2
Combined, that's twelve of the thirty-five winners who were propelled in some manner to the title picture proper following a Royal Rumble win. Indicated within this stat, winning a Royal Rumble is less likely to be an anointment of stardom beginning, and more likely to be a storyline leader for Wrestlemania title contention, being the vehicle for an established star's challenge rather than developing a lower member of the card.
"Total Elimination(s)!", Joey Styles voice
Perhaps there's information to be garnered from the number of eliminations. Obviously, it stands to reason that the longer you're in a contest of this kind, you're likely to eliminate more competitors. But that would expend additional energy, when you could instead focus on preserving your own position, fighting for survival, rather than others competitive death.
The combined mean average3 for all competitors indicates that eliminating four or five opponents is optimal for victory – and when looking at the number of eliminations that arises most often amongst winners (or the mode average) – the three most common amounts are four, three and six in that order.
But eliminations in and of themselves can also be a small victory for competitors. Having the most eliminations in a Rumble in some cases is regarded as comparable to how the Intercontinental Title relates to the World Title. Typically, analysts will talk about performers receiving a dominant statistical "rub" in the form of a high number of eliminations, but not necessarily the grand accolades. The last person standing is the headline, but an eye should be kept on the entrant with the most eliminations. How do these competitors do in the following year?
Well firstly, coming out victorious and having the most eliminations are not mutually exclusive. As we've previously discussed, the average number of eliminations for a winning entrant is around five competitors, which is typically 1/6th of the field, a significant percentage for an individual to eliminate in a single contest. As a result, eleven out of the thirty-five Royal Rumble winners also held the most eliminations in that match.
Of those that did not win the titular contest, however, but did eliminate the greatest number of their opponents, the list is a litany of main eventers at the time, or regularly individuals who went on to win a title of some sort in the following twelve months. This spot is clearly one for people the company has faith in and is never decided as a throwaway statistic (more often it's a stat stuffer, as Triple H has held this honour on three separate occasions).
Names such as Hulk Hogan, who eliminated ten opponents in 1989, five years after his first world title win, and the year prior to winning back-to-back Royal Rumbles. Kane in 2001, with eleven eliminations in that year's Rumble, and Hardcore, Intercontinental and Tag Title wins in the following twelve months. The Great Khali during his assentive first year in WWE, eliminating seven opponents in 2007, the same year he won his first World Title.
Exceptions to this side of the statistics are the likes of The One Man Gang, who didn't win any titles following the first Royal Rumble (although this was at a time when titles were held for longer, and tag teams weren't made up of singles stars), Sid Justice, who had left "The Fed" by the end of 1992, and Braun Strowman, who failed to win any titles until 2020, but was consistently presented as a Monster performer. (Strowman either had the most or tied most eliminations in four separate events during his run as "The Monster Among Men".)4 Almost everyone with the most elimination since the beginning of the Royal Rumble was either the winner of the contest, a pre-existing top-card performer, a beast in the ring or went on to win a title of some sort in the following year.
The TLDR
As a final breakdown, here are some takeaways when it comes to watching your favourites, in this, the most fun WWE PPV on the calendar annually:
If your favourite enters at 27th, historically they're likely to win
If your favourite enters at 24th, and wins, they either already are, or will one day be a pillar of the company
Officially, you are more likely to win in the 30th spot, rather than the 1st spot
Whoever enters at 4, 6, 7, 9, 11, 12, 15, 20, 21 or 26 could make history
80% of former winners have come from positions 16-30, 63% have come from 21-30
If someone without an established pedigree is on track to eliminate the most people, they're likely to have an eventful 2021
Only 57% of Royal Rumble winners have won a major title at Wrestlemania
12 of 35 winners found their first major title within the following calendar year (both at and after Wrestlemania)
I hope you've enjoyed this deep dive into the number behind The Royal Rumble match, and what they mean for each competitor in this Sunday's match. I hope this didn't feel like the Scott Steiner maths promo… Let us know in the post comments below, or on Twitter at @CKNearfalls who you're rooting for!
All statistical information calculated through details available on Wikipedia
1This includes both Duggan, who entered 13th in the first Rumble, which only featured twenty athletes, and Alberto Del Rio, who won having entered 38th in the experimental forty person 2011 edition of the Royal Rumble.
2These statistics also include earlier Royal Rumble Matches where a title shot was not on the line.
3Statistics do not include figures from the 2018 Greatest Royal Rumble
4Examples given are of male competitors exclusively, as the Women with the most eliminations throughout the first three Women's Royal Rumble matches have been Michelle McCool (who was not in the company that year apart from this match), Charlotte (who won the Smackdown Women's Title later that year), Bianca Belair (who has yet to win a title in WWE) and Shayna Baszler (former half of the Women's Tag Title holders at time of writing)