Storytelling is one of AEW's greatest strengths, with various captivating narratives engaging viewers straight from the outset. The top stories in the company have been longterm and multilayered, with the greatest example being the story between Adam Page and the Elite.
The intricacies of this storytelling do not extend to the women's division. If I think about the storylines we have been blessed enough to have bestowed upon us, they tend to feed off of stereotypes or seem to revolve around part-time wrestler Brandi Rhodes, whom I will explore in a separate article. In this article, I'm going to look at some specific examples of the storytelling in the division, or lack thereof.
A Belt Lacking Prestige
One glaring criticism is the lack of build for title defences, an issue first highlighted when Emi Sakura produced her own video package for her bout with Riho to highlight the teacher vs student dynamic in the match, something which AEW had neglected to do themselves. Furthermore, other Championship bouts have lacked build compared to the male equivalent. The fued between Jon Moxley and Chris Jericho dated back to December with "The Lexicon of Le Champion" segment. Various segments taking place in the proceeding months, including an attempt to recruit Moxley to the Inner Circle and Moxley having his eye stabbed by a spike from Jericho's jacket.
I can easily recall these segments, even the name of the Lexicon of Le Champion, as they were prominent features on the shows that they were on. On the other hand, I can only recall one segment featuring Nyla Rose and Riho prior to their bout which I only remember because it was a segment centred around Kenny Omega and Pac. This is a continuing pattern that still persists to this day; matches seem to be engineered through the ranking system with little to no story justification.
The most recent examples include Shida's mostly fruitless open challenge for her title where she has spent more time at ringside than defending her title and the ball being dropped massively on the high potential Penelope Ford after her loss to Shida.
All Vapid Wrestling
Another issue that is prevalent in the women's division is that each wrestler lacks character, outside of Britt Baker and Brandi Rhodes. I don't know what motivates these women or what they want to achieve. I don't know their thoughts or feelings. In fact, know the bare minimum about them so it makes it difficult for me to invest in them.
The women rarely appear on Being The Elite, which serves as the company's star-maker and allows for viewers to invest in their favourite wrestlers more easily. One of the most developed characters who appear on Being The Elite frequently is Leva Bates but she assumes the role of a manager for The Initiative and a jobber within the women's division. Why can't the same effort used to develop Bates be used for another woman with a more prominent role?
Recently, Anna Jay joined the Dark Order with this angle amplifying the lack of personalities these women have. Unusually, her match with Abadon was preceded by a promo which introduced us properly to Anna Jay. We knew that she felt passionate about wrestling and enjoyed entertaining people, which is what she considered to be her unique selling point. Following her defeat, the Dark Order came down to the ring and walked Anna offstage. Following this, we never really learnt any more about Anna's character.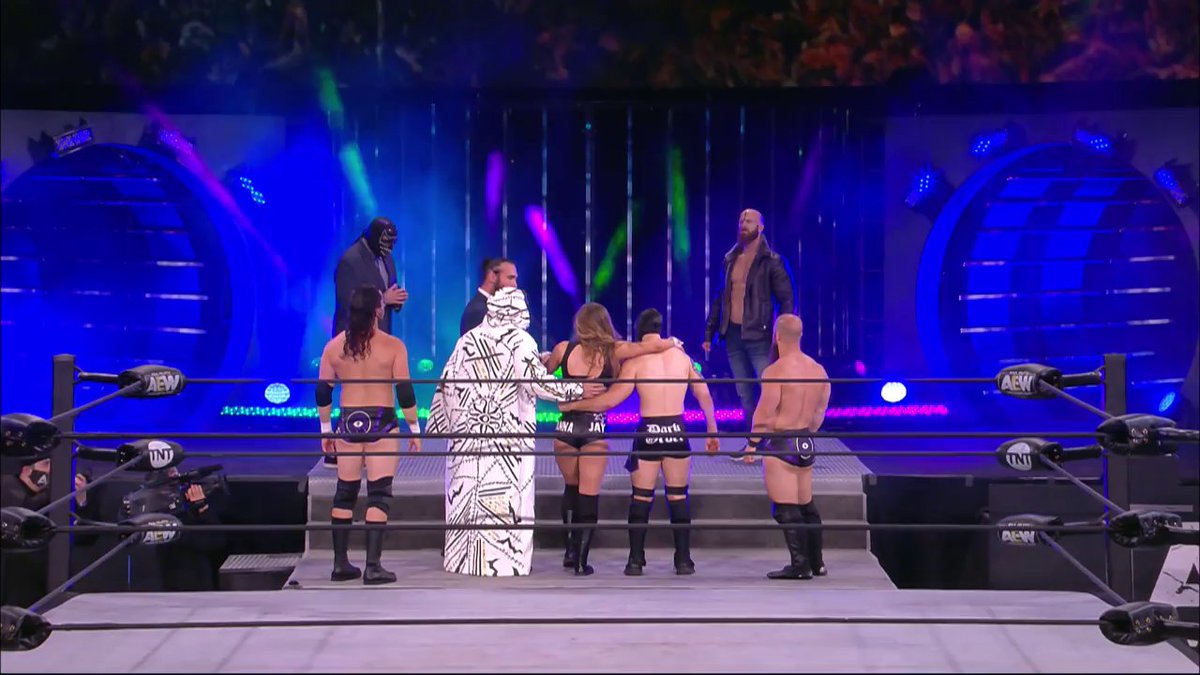 Initially, she seemed to fill a role similar to Colt Cabana. She was spending time with the Dark Order but wasn't sure whether she would like to join permanently. This was never explicitly told to the viewer but rather it was assumed due to Colt's position. The viewer had no idea why the Dark Order were interested in Anna specifically or why Anna was so easily persuaded to join a glorified cult. Usually members join from lack of confidence which we could assume Anna experienced after losing her match so rapidly, but this was never told to us or explained. Viewers are expected to mentally do all of the storytelling which demonstrates the apathy shown by AEW towards their women's division.
An Archaic Alternative
Some of the storylines we have had come across as out-dated to some fans, as one contributor commented saying they resemble Divas-era WWE. The most recent example is Britt Baker convincing Penelope Ford to take part in a handicap match with her, offering her makeup as a reward. There is nothing wrong with women embracing traditional, stereotypical femininity unless we are not shown a character who purveys the alternative to demonstrate that women aren't produced from the same mould.
Britt Baker's early promos seemed to define what the epitome of female success should be, christening herself as the Role Model. Although the intention of these promos is to portray her as a self-absorbed heel, there is a fine line between someone being egotistical and someone purveying unrealistic expectations for women. Britt referred to champion, at the time, Riho and her challenger Nyla Rose, as second to her despite Riho's impressive technique and Nyla's awe-inspiring power.
The implication of these comments is that a women's wrestlers ability in the ring is irrelevant if you don't have "3 degrees", "2 Plan A's" and the "hottest girl on this roster" going for you. A woman proclaiming her successes isn't inherently bad, in fact, it can be incredibly positive and inspiring for young, impressionable viewers. However, with Britt being the heel in this scenario, her portrayal of her success could be perceived as belittling other women. This creates a narrative to the aforementioned impressionable audience that they are worth nothing without a degree or good looks thus placing pressure on them to align with this ideal.
Success is subjective and we all have different definitions of success that we are content with striving for therefore this one-dimensional portrayal makes for uncomfortable viewing for some.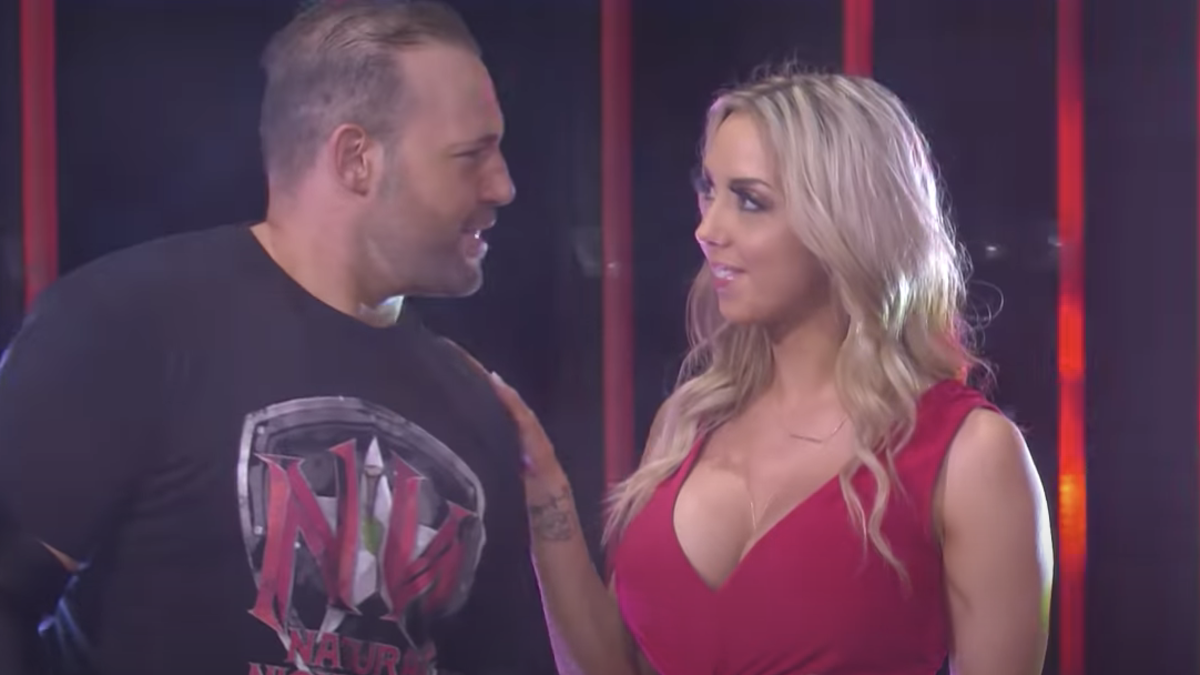 Another storyline that could be branded with the archaic label is Allie's involvement with QT Marshall. At the beginning of the year, Allie served as the heel valet for the Butcher and the Blade. After being absent from TV due to the pandemic, she suddenly appeared with QT Marshall, appearing to be incredibly infatuated with him. She altered his diet to be vegan and had him gift her one of the Nightmare Family jackets. However, she was met with suspicion from the Natural Nightmares and Brandi Rhodes with it being presumed that she had ulterior motives.
Ultimately, the conclusion of this storyline has become unknown with the Deadly Draw tournament convoluting a storyline that initially seemed predictable. However, the initial expectation was that Allie was performing the archetype of a femme fatale. This is a woman who, shrouded in mystery, seduces men to lure them into dangerous situations, with the expected dangerous situation being the Butcher and the Blade.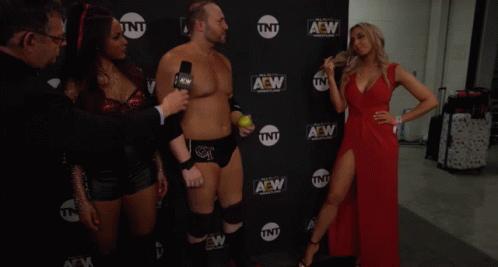 There are mixed perceptions of the femme fatale role, which is a trope in literature and film. Coinciding with the rising feminist movement, the femme fatale character was introduced to writing to reflect the threat that men were beginning to feel from feminists. These women were often portrayed as monstrous figures such as vampires, connoting that their strive for equality was horrifying. In media, the modern-day femme fatale is often confident, determined and defiant and can be viewed as a powerful figure. However, Allie is yet to demonstrate such qualities, therefore, lacking an empowering portrayal.
Conclusion
The intention of this article is not to brand AEW as a misogynistic company. That does not reflect my views towards them. I do not believe that the storylines identified above are products of ill will but rather portrayed without the necessary nuance that needs to be taken for storylines featuring underrepresented groups. I would be happy for any of the above examples to exist within a company as long as they co-existed with portrayals of women that are empowering, which I am yet to consistently find in AEW.
It would be ideal if AEW could put more effort in to their storytelling for the women. Recently, this has been improving with Anna Jay trying to recruit friend Tay Conti to the Dark Order whilst simultaneously feuding with Brandi. If there is not enough time on Dynamite to include promos for the women, what's preventing the company from showcasing these as social media exclusives or on Being The Elite?
Credit To Contributors
As mentioned above, the following sequence of articles has been written in collaboration with various other wrestling fans. Without them, the following articles would not be as nuanced or showcase the variety of opinions that fans hold, and I would like to thank them for helping me achieve that.

These contributors include: @Seanathan64. @heelsimp, @bucksh0tangel and @rickystxrks.
Credit To Research Sources
Information regarding history of the femme fatale role: https://exploringyourmind.com/myth-femme-fatale/