The saga surrounding this past weekends Hell in A Cell pay-per-view is a microcosm of an existing concern with the production of WWE content: the relationship between them and their television networks.
Two days ahead of their annual event, where multiple matches are contested under the titular stipulation, one of the most anticipated matches of the show was aired for free as part of Friday Night SmackDown on FOX Sports. The company's most popular act Roman Reigns defended his Universal Title against one of the industries most indomitable legends: Rey Mysterio. FOX has been host to "the blue brand" since 2019, with a contract worth $205 million a year for five years heading into the WWE accounts.
Fans were a little disappointed, by this match appearing on SmackDown and Hell in a Cell itself. The common thought by vocal fans is that the Hell in a Cell stipulation has been nothing but watered down by the advent of a pay-per-view made in its image. While history has been made at the event in the past by matches like Charlotte Flair vs Sasha Banks, the same can be said for 2019's Seth Rollins vs The Fiend (with a far more disappointed tone). With a milk toast response the prevailing direction from fans, this particular matchup had sturred some excitement, and moving it to SmackDown – while now on free tv – disappointed those who look forward to WWE's monthly events. But fans weren't the only ones disappointed in FOX receiving such a major matchup.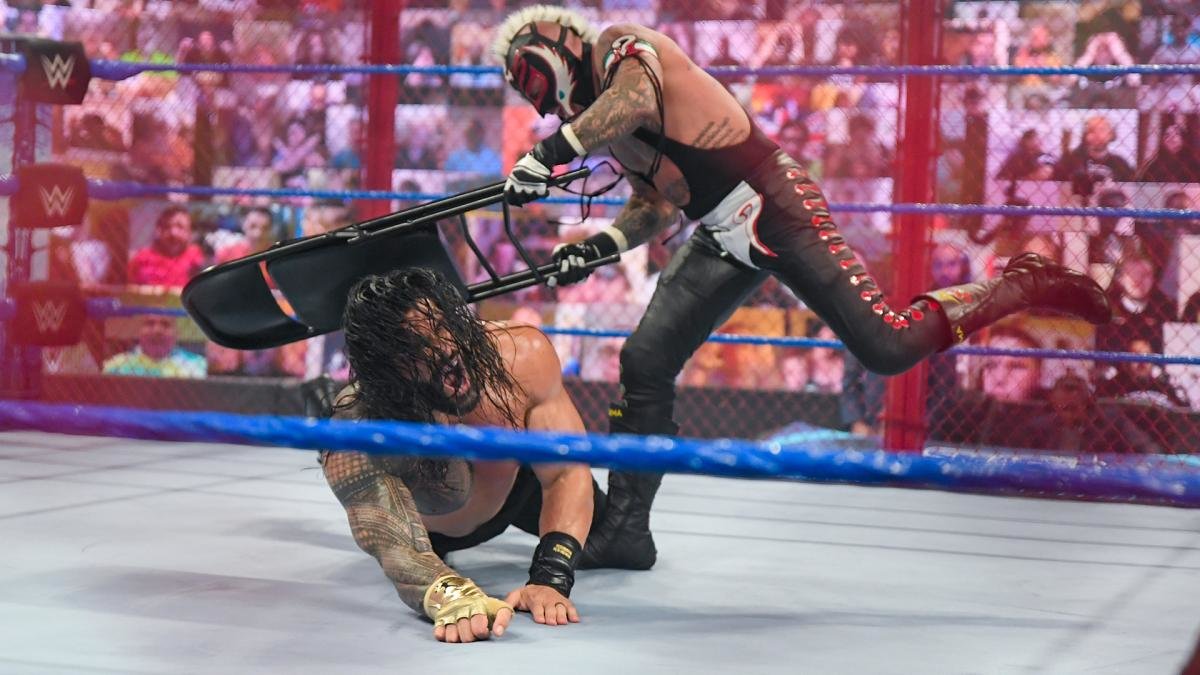 USA have a history with WWE, launching RAW on the channel back in 1993 and having carried the flagship show again since 2012. They also have the significant financial investment in WWE through their parent company, NBCUniversal, who are paying a reported $1 billion over five years for exclusive rights to content distribution in the US through their Peacock streaming service (a deal on par with the 2019 SmackDown/FOX contract, but with the added benefit of receiving greater amounts of content for the same price, airing both historic footage and live pay-per-view events). With such a significant investment, moving a headlining matchup from their private paid-for service on to free television for a competing company reportedly upset USA representatives. As a result, this past Monday saw the cage lowered once again, for a RAW main event of Bobby Lashley defending his title for the second time in the cell, in as many days, this time against Xavier Woods.
On one hand, this suggests USA throwing their toys out of the pram has worked, tit for tat. If SmackDown gets something special, so should RAW. But the reasoning behind the initial presence of Reigns vs Mysterio on SmackDown was due to FOX being unhappy about the Peacock service being advertised regularly on their network! Reportedly, from WWE's end, the presence of these matches on both shows was as advertisement for their impending return to touring. Exciting matchups on weekly television drums up anticipation from the fanbase about seeing all their favourite superstars out on the dusty trail. This, at the same time as "giving their TV partners something extra". I'm inclied to believe the latter weighs greater on WWE than the former, as smoothing things over with mega-corporations is important for a brand that has switched to an income model that relies heavily on their investment.
And it is this reliance which at present plagues part of WWE creative. While fingers may be pointed at a variety of systemic issues within the worlds largest wrestling promotion (specifically the concern they want to drop that second W from the product entirely), a number of demands from both FOX and USA since they were pitted against each other on-screen and off in late 2019 may be there own contributing factor. Many of these demands to ensure that their network, in particular, outperforms the competition – all making use of the same product. WWE being more beholden to these companies than either their shareholders or viewers, means that their word carries weight, and changes the structure of the company seemingly with ease, occasionally to the disruption of the federation and the diminishing of fan enjoyment.
Looking at the years proceeding this latest conflict of ideologies, FOX in particular has made a number of demands that WWE has acquiesced to, while the company at large has also made a number of creative decisions to bolster the worth of their NEW most important show. Brock Lesnar moved to SmackDown and became champion prior to its debut on FOX, at the same time that one of the companies most dedicated employees, head announcer Michael Cole, also changed brands. The Fiend and its hot commodity moved nights during October 2019's draft, not long after the change of channel. The Rock made an appearance on the debut episode. May 7th SmackDown was a "Throwback Special", a tie-in for the network's #NASCARThrowback over that weekend (reportedly with WWE being told to do so with a weeks notice.) FOX is the new partner in this relationship, with a lot of wants, wishes and desires. USA with a pre-existing relationship with Vince McMahon and co., as well as a greater slice of the content pie, seem to be more content to let the ship rock on its own. Their only significant change to the product on their screens was being the ones to pull the plug on the Wednesday Night Wars, strong-arming a move for NXT to Tuesday nights in favour of NHL games.
While not all of these changes are inherently bad, significant alterations to programming throws whatever has been pre-booked into flux. WWE CAN react on the fly, with the weather delays to this year's WrestleMania a perfect example, but regularly having to play to the desires of their corporate partners over their audience can do the latter a disservice. The disappointment and confusion of last Friday's main event, taking away a major talking point from a paid-for show, a microcosm of this problem. Outside of this weekends trading of cages, there have been no significant storyline decisions made BY either FOX or USA that have disrupted WWE plans (their corporate synergy with Old Spice was more disruptive.) But control over match stipulations, office decision making with regards to talent, and the positions that talent have been placed in since 2019, shows a worrying trend.