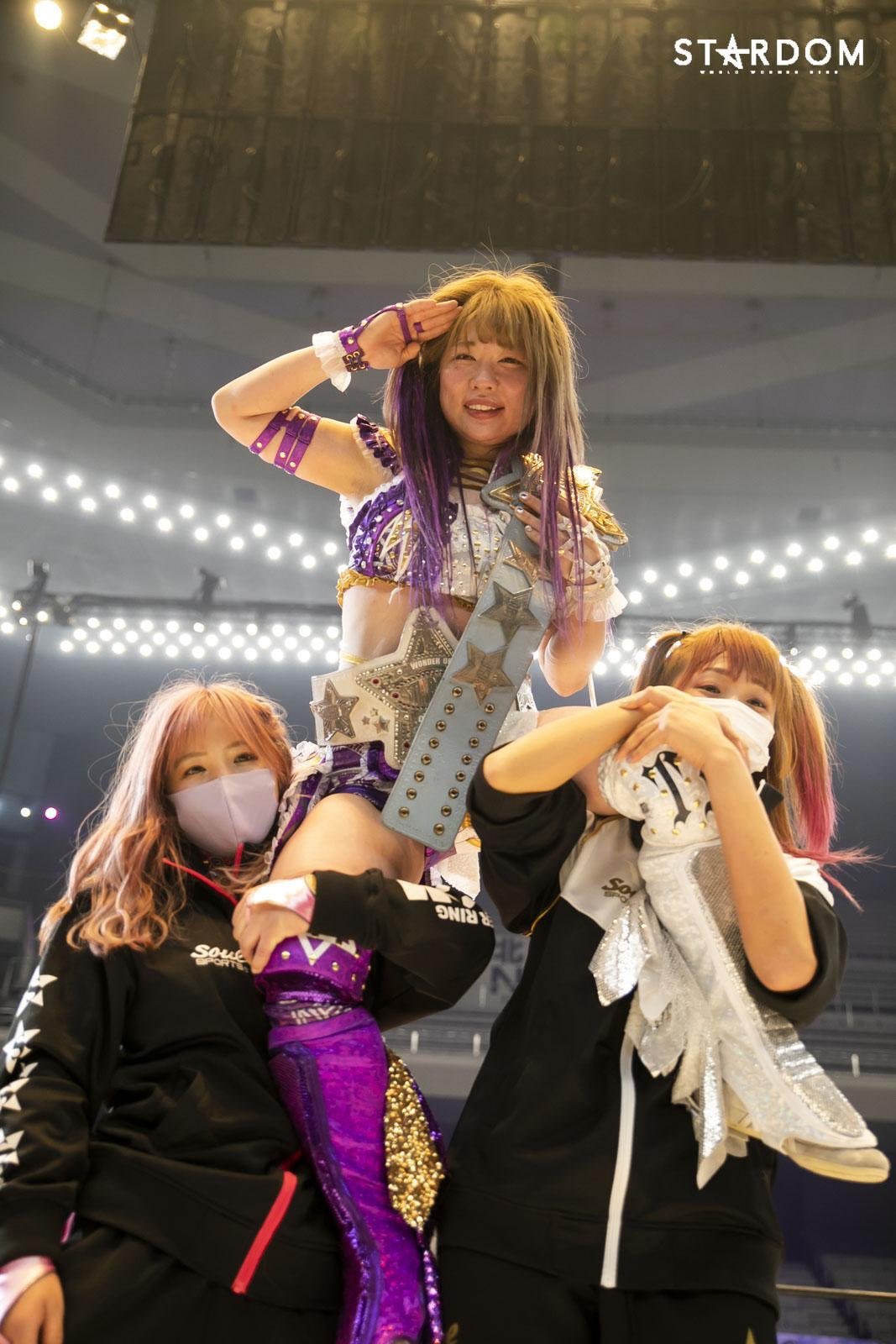 INTRODUCTION
STARDOM is in a very interesting place right now. Since being bought by Bushiroad in late 2019, the company has come under lots of criticism and praise for different reasons. One thing that many people miss is the beauty and simplicity of the promotion. Since 2019, things haven't felt the same and that's partially due to the move towards a more serious tone as opposed to the whimsical nature that made so many people fans in the first place. However, one person that has thrived in both aspects of the company's history is Tam Nakano. Why? Because she can be the most fun and cute wrestler you've ever seen while also possessing a flare for storytelling and pure emotion that no one else in wrestling has right now.
Before going too much into what makes Tam's storytelling so great, I would highly recommend reading some of her old blog posts from 2018. Even through the English translations aren't perfect, the thoughtful entries she writes more than highlights how deep of a connection she has to wrestling.
PRE-MATCH PROMOS
Something that STARDOM does differently to other companies is their use of pre-match promos. For a new viewer, it's a perfect way to get an insight into everyone's personality and motivations before you see them in the ring for the first time. Tam uses these perfectly, whether it was her cute Oedo Tai promos with P-Sama, declaring she will win her match with the power of chicken salad, her tsundere acts towards Arisa Hoshiki or her heart-warming interactions with Mayu, she used every moment perfectly to make you connect with her character. She can be serious, funny, emotional or all of them at once and it always creates a compelling promo. Some wrestlers try and portray multiple characters at once depending on the situation and for many, it comes across as convoluted and like they don't have a clear direction or motivation. Tam, however, has many different personality traits, goals and motivations and she interweaves them to become the cutest in the cosmos.
BEST MATCHES
For a little while, Tam wasn't the most fluid wrestler in the ring. She was certainly not on the level of some of STARDOM's best but her amazing pure wrestling ability came over a series of matches. For me, the most important of those are:
Vs. Momo Watanabe – 8th Anniversary
Vs. Arisa Hoshiki – Shining Destiny
Vs. Kagetsu – 9th Anniversary
Each of these matches deserves a whole article dedicated to the levels of storytelling packed into them but I'll try and sum them up as best as possible. Her White Belt match with Momo was her biggest match to date. A White Belt semi-main event against one of the best in the company…and she delivered. While there were a few slip-ups, the emotion was definitely there to keep the audience on the edge of their seat to the end. After the match, a defiant Tam tells Momo that even she must see that STARS isn't just Mayu anymore. Tam was a new force in the faction.
The match with Arisa REALLY deserves it's own article. A STARS vs STARS encounter that felt like 2 bitter rivals ending a 5+ year rivalry. Tam originally rejected Arisa's inclusion into the group. Possibly due to jealousy? Hatred? Both seemed evident whenever they teamed together and it was more than visible in this match. One of my favourite moments is Arisa hitting Tam with what must of been 2 dozen forearm strikes before Tam drops her with just one and proceeds to roundhouse kick Arisa an ungodly amount of times. Arisa finally wins and they share a heartfelt moment after the match. If you're going to watch any Tam match, make it this one! Sadly, we never go the conclusion to their story as Arisa was forced to retire in May 2020, giving up the White Belt. However, that belt became Tam's focus for the next year which culminated in one of the best matches of 2021 where Tam beat Giulia to fulfil her promise to Arisa.
And finally, an underrated gem of a match against Kagetsu at Stardom's 8th Anniversary show. Former Oedo Tai partners turned rivals, Kagetsu did everything to shut down Tam in this match, whether it was no-selling suplexes or dropping Tam with her own Tiger Suplex, Kagetsu owned Tam in this match…but it was Tam that came out on top. With this match being part of Kagetsu's retirement tour, emotions were already high in this match and these 2 escalated them to the highest point. Tam finally putting down Kagetsu for the 3 count was so satisfying after she had been put through hell for most of the matches' 10 minute runtime. A truly great match and an important one in Tam's progression.
RELATIONSHIP WITH MAYU IWATANI
Going back to Tam's blog post, one of the most interesting entries depicts her departure from Oedo Tai and forming her bond with Mayu. Despite the poor translation to English, the message of Mayu being the shining light that brought Tam from an Oedo Tai failure to a STARS success story is articulated perfectly. Even through their interactions in pre-match promos and during matches with or against each other, Tam finds a way to tug at the heartstrings and make you feel so emotionally invested in everything she does and her dynamic with Mayu is the best example of this. Instead of going through their whole history, let's jump to present day. Tam having broken away from Mayu is the leader of her own faction as well as the Wonder of Stardom Champion. The friction between her and Mayu is still there and the eventual payoff, whether it results in heartbreak or a reuniting of the two, is sure to be emotional. The great thing about their current feud is that it's one without a clear heel or face and the fans can decide themselves who is right and wrong. Did Mayu reject Tam in STARS for other members such as Arisa? Was Tam wrong for breaking away from Mayu and starting her own faction? It's a beautiful story that can be interpreted in different ways without feeling like the company wants you to pick one over the other. Yes, Tam is in the wrong but I digress 🙂
The matches they have had together in the past have been nothing short of spectacular. Whether it's a friendly battle in the 5 STAR GP in back-to-back years, an emotion-filled time limit draw in January this year or the potential White Belt PPV match that could happen in the near future, they continue to blend real-life emotion and athleticism into one of the most compelling stories in modern wrestling. And I can't wait for the next encounter.
CONCLUSION
There are so many layers to Tam Nakano's story that it would be impossible to list every single one. To me, Tam Nakano represents a different type of wrestling, one that I am a big fan of. A type of wrestling that can be fantastical, emotional, funny and goofy all at once. For me, that's the best type of wrestling and Tam may be the best example of the best elements of wrestling mixed into one.