This Supercard of Honor marks another shift in Ring Of Honor's history, from the Sinclair-era to the Khan-era. Tony Khan, the owner of AEW, purchased Ring Of Honor during the company's hiatus post-Final Battle. A little bit of history on my own relationship with Ring Of Honor, when I first started getting into the indies around 2004/5. ROH was the proverbial shit. It was the best of the best that the independents had to offer. They had some of the best matches full stop in America. It introduced to me to my favourite promotion, DRAGONGATE JAPAN and Pro Wrestling NOAH via their relationship with international promotions. ROH was must watch whenever I could get an opportunity to watch a show. Then after Sinclair bought the promotion in 2011, I felt it decline slowly.
Still had some pretty great matches. By the late 2010s, the promotion felt like it had a general malaise. An overall sense of apathy to its standing in the American landscape, a reliance on talent from New Japan and the inability to create their own talent. I was dipping in and out of watching ROH. The re-emergence of the Pure Division via the tournament to crown a new champion and then Jonathan Gresham's reign was the best thing the promotion did in my eyes in many a year. Flash forward to December 2021 and the news of the hiatus comes out.
Then 2022, mere weeks from this very show, the slated return of ROH. Tony Khan, the owner of All Elite Wrestling, had purchased Ring Of Honor. Thus effectively ending the Sinclair-era of ROH ownership. I don't look back at the Sinclair-era fondly so I was eager to see what Tony Khan would do for ROH and I've generally been optimistic since news of the acquisition.
Here we go, Supercard Of Honor 2022 from Curtis Culwell Center in Texas, USA.
Pre-Show: Hour One
The pre-show had four matches on Hour One. Colt Cabana made his ROH return wrestling against young high flyer Blake Christian, Cabana won in the first and best match of the pre-show, even bringing out the Chicago Skyline. AQA defeated Miranda Alize before Tully Blanchard appeared. Tully Blanchard made a promo on the stage, talking about his new Tully Blanchard Enterprise (seems like a bit of a Shane Taylor Promotions rip-off). He then introduced his new tag team, Kaun and Toa Liona, who are going under the name The Gates Of Agony. They easily dispatched the Shinobi Shadow Squad duo of Eli Isom and The World Famous CB in a squash. Concluding Hour One, Dalton Castle defeated Joe Hendry in an okay match. I've never been too keen on either guy so you may like it more than me.
Supercard Of Honor 2022
Swerve Strickland vs. Alex Zayne
Code Of Honor adhered to, accompanied by mischievous grins by both men. Both guys are so innovative and excel in high flying, Zayne takes a lot from Hayabusa. Using his body to inflict as much damage as possible on his opponent. This was a quick opener, very flashy. As one would expect of a match between these two. It was the perfect mixture of hard hitting, submission work and high flying. Swerve came with a game plan of going for the knee of Zayne. Zayne's game plan was destroying both of them by doing a Poisoned Rana to Swerve from the apron to the outside. Swerve and Zayne go hard in the last minute, switching momentum back and forth. Swerve kicks off the future of ROH strong.
Brian Cage (w/Tully Blanchard) vs. Ninja Mack
I love me some Ninja Mack, and this match gets extra points because he's actually wearing his mask for this one. Blanchard revealed his newest Enterprise member, Brian Cage. Ninja Mack dived to surprise the Machine Brian Cage, Cage caught Mack's Sasuke Special and power bombed him onto the apron. Mack is up quick but Cage just swats him away as if he's an insect. Unfortunately, this is much like The Gates Of Agony match from Hour One is a squash. Crowd were into Cage, and Cage is a known commodity so they could have made more of this match than squashing Ninja Mack. Drill Claw has the match over in under three minutes on Cage's ROH debut.
Kaun and Toa Liona join Blanchard and Cage in the ring after the match. I may have complained that Tully Blanchard Enterprises looks like a Shane Taylor Promotions rip, but looking at them in the ring, perhaps this is an upgrade. And that shouldn't be taken as a shot at Shane Taylor, Moses, O'Shay. Kaun was previously with them so I guess thats a bit of continuity.
Jay Lethal vs. Lee Moriarty (w/Matt Sydal)
TAIGA STYLE! Probably one of the biggest matches so far of Lee Moriarty's wrestling career coming up against the franchise player of ROH Jay Lethal. Lethal may be contracted to AEW these days, but Lethal will always be synonymous with ROH and vice versa. Code Of Honor adhered to before the bell. The crowd seems split between both guys. This match could have be fought in so many different styles and all versions would be bangers. Both guys are so adept at so many styles of wrestling. They start with some really nice chain, Lee Moriarty definitely prefers the technical side of things. Moriarty with crafty counters, a Lethal Injection attempt into a pin for example, has the veteran Lethal rattled.
As the match progresses, they throw in strikes and speed. But also the longer it goes on, the more Lethal grows into and starts to target the left leg of Lee Moriarty. After targeting the leg of Moriarty, Lethal dunks him to the outside and lands two suicide dives on Moriarty. Moriarty cuts Lethal off on the third but the damage is done. Back in the ring they trade strikes, Lethal repeatedly throws kicks to the left leg. Moriarty surprises Lethal with another pin counter from Hail to the King, and follows it up with loads of near falls. Lethal is well and truly rattled, as the referee is putting the ring apron back down, Lethal hits a low blow and follows it up with the Lethal Injection.
Lethal is disgusted with himself, Sonjay Dutt is disgusted in the crowd. Matt Sydal is apoplectic and Lethal attacks him, Sydal is on crutches. Dutt makes the save.

ROH Interim World Women's Championship Match
Mercedes Martinez vs. Willow Nightingale
Based on the video package, both Martinez and Nightingale's eyes are firmly on the ROH World Women's Champion, Deonna Purrazzo. If Willow wants to become the Interim Champion and go on to face Purrazzo, she probably shouldn't be looking passed Mercedes Martinez. Once again, Code Of Honor adhered to by both wrestlers. Willow goes technical early on but Martinez goes straight to strikes, her wheelhouse. If it becomes a fight, Martinez will win without a doubt.
The match was okay, nothing majorly flawed but nothing outstanding either. It felt a bit clunky at times. Martinez becomes the Interim World Women's Champion, a bout with Deonna Purrazzo is on the horizon.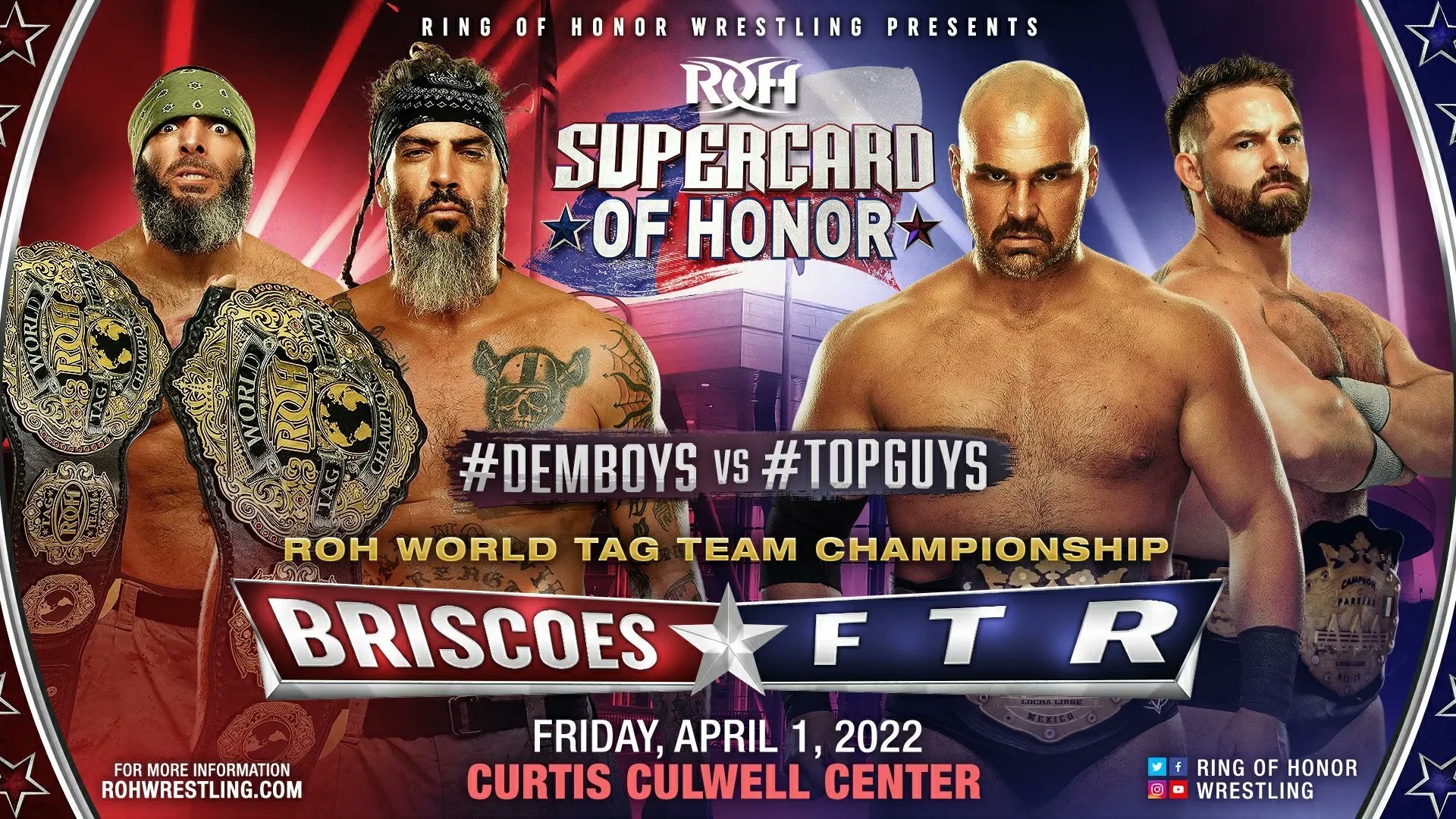 ROH World Tag Team Championship Match
The Briscoes (Jay Briscoe & Mark Briscoe) (c) vs. FTR (Cash Wheeler & Dax Harwood)
Despite not being the main event, this is the match I've seen the most people talking about, being excited for. Two of the best modern day tag teams in wrestling going for one of the best Tag Team Championships in professional wrestling. The AAA Tag Team Champions FTR, Cash Wheeler & Dax Harwood, are challenging the ROH World Tag Team Champions, Dem Boys, The Briscoes. The crowd chant Holy Shit as Paul Turner calls for the Code Of Honor as FTR walk away. Mark Briscoe and Cash Wheeler start off the dream match, going hard into a lock up. Dallas appears to be split 50/50. After some Redneck Kung Fu from Mark sends Cash scurrying, Jay and Dax come in. Much of the war of words between these two tag teams came from these guys.
The intensity of this match is next level, you can feel it emitting through the screen. There's a fire and heat to this, exemplified by Dax spitting on Jay. We've already seen one dishonorable act tonight from Lethal, a may synonymous with Honor. FTR have no such attachment to Ring Of Honor, the Code Of Honor, but that spitting act was enough to have Jay loose his cool. Dax isn't allowed back into the ring by Jay for a time but after he gets back in, he tags out and Jay seems to be cut off from Mark but Jay just explodes into offence. Jay and Mark just work over Cash for a while and FTR cut off Mark from Jay.
There's not much scientific wrestling to be seen in this, this is a bout of pure animosity and it is amazing. This is a fight between two of the best teams around and it shows. Tit for tat violence. One of the best tag team matches outside of Japan that I've seen in many a year. The fighting on the outside just pours further gasoline into an already volatile match. FTR bloody Jay Briscoe, and Dax just pummels away with his fist on Jay's bloody forehead. Harwood taking great pleasure in the damage he's inflicting on Jay Briscoe. Jay is well and truly cut off from his brother, his blood splattered on the ROH canvas as Cash proclaims to the crowd that "we are tag team wrestling", and to be honest, it's a claim they can back up.
But they get complacent and Jay tags in the Mark, the Master of Redneck Kung Fu and he comes in hot and takes on both of FTR, an exclamation mark of a Uranage on Dax. Jay recovers to help Mark out and they hit a Redneck Boogie but Cash kicks out of it. Wheeler fights out of Dem Boy double team, gets rid of Mark and Dax tags in. A Powerbomb and a Splash tandem from FTR as the crowd on their feet. Briscoes hit a Big Rig but luckily for Harwood, he kicks out. Briscoes and Wheeler on the outside, Cash hits a massive Tornado DDT on Mark, Jay hits Cash with a Death Valley Driver. Jay gets up to the apron and is met by Dax. What follows next is the sickening thud of Dax Harwood being suplexed from inside the ring to the ground from Jay.
That moment will be etched in my brain like the Kobashi and Misawa suplex in the Budokan. Somehow all four are standing in the middle of the ring and just slugging it out. Paul Turner is thankfully giving them some leeway. Briscoe's setting up Harwood for the Doomsday Device. Cash provides enough interference to stop it. In the process, Jay ends up on the outside. Mark is left alone and is hitting with the Big Rig. As Harwood covers Mark, Wheeler goes to prevent Jay coming back in to break the pin.
The new ROH World Champions bow to the Briscoes, they hug it out and adhere to the Code Of Honor. As FTR exit, the Young Bucks run in and blindside the Briscoes! FTR make the save and run off the Bucks. Dax gets on the microphone and lay down the challenge to the Bucks, even for the ROH titles. But the Bucks chicken out and say that it's perfect for Wednesday night.
ROH World Television Title Match
Rhett Titus (c) vs. Minoru Suzuki
Nothing like hearing Kaze ni Nare, you immediately know whoever is facing Minoru Suzuki is about to get battered. Rhett Titus had big words but being honest, he doesn't have much chance against a student of Karl Gotch, Billy Robinson and Yoshiaki Fujiwara. Despite Rhett's re-emergence while a member of The Foundation, the technical, chain game is not going to go well against a former King of PANCRASE. As expected, Suzuki refuses the Code Of Honor. And pretty much since then, it's all Suzuki punishing the champion.
When Rhett finally gets some offence in, it's not enough and the crowd doesn't have the same support of Minoru Suzuki. That is not surprising to be frank. The crowd is a combination of being in a lull following the tag team match and only caring when Suzuki gets violent. They get a new World Television Champion after a Gotch Style Piledriver. This is the first title Suzuki has won in America.

Not a bad outcome for the Japanese legend after taking the match on short notice.
ROH Pure Title Match
Josh Woods (c) vs. Wheeler YUTA
I came back to ROH when they announced the Pure Championship tournament to reactivate the old championship. One of my favourite titles in America. I really enjoy this type of wrestling. It also adds something unique to cards in the modern day of pro wrestling with the amount of more flashy offence, high spot style matches that are popular now, not a complaint, just an observation. I like most styles of wrestling, and Pure Rules just adds another style, another flavour to the mix. This is a first time meeting between Josh Woods and Wheeler YUTA.
Two of the brightest prospects around today in this style of professional wrestling. Woods defeated Gresham for the title at Death Before Dishonor 2021. YUTA hasn't been in ROH since May of 2021, defeating World Famous CB in a Pure Rules match. Wheeler YUTA went to AEW, linking up with the Best Friends crew, and recently coming to blows with ROH Hall of Famer, Bryan Danielson. YUTA definitely seems a bit more aggressive since that match with Danielson. Definitely a different YUTA than the one previously seen in ROH.
Code Of Honor adhered to, Wheeler charges in hot but Woods evades. A lot of Arm Drags to start before Woods lands an early Ankle Lock and Wheeler reaches for the rope, losing 1 of his 3 rope breaks. He almost appeared to have forgotten, then after realised what he just done. The match develops into a lot of grappling as expected, it's decent but it's a bit too quick. They have an exchange and then face off quite a lot in the first few minutes. It gets better after that, and the feeling of the match gets hotter after YUTA uses his 2nd rope break and then forces Woods to use his 1st.
Overall, the match was good. They did good work, especially in the latter portion of the match. Nothing spectacular to write home about but a good match thats well worthy of a watch. Good work on the mat and heated exchanges made it interesting. Based on his performance of the match alone, YUTA is deserving winner but is a second ROH title going towards AEW. It's hopefully going towards to some sort of ROH vs. AEW angle.
Code Of Honor post-match and Wood's puts the belt around the waist of Wheeler YUTA. It'll be interesting to see where both guys go from here, Woods and ROH at time of writing is still uncertain but YUTA's future appears to be with Blackpool Combat Club with Danielson, Moxley and managed by William Regal.
ROH World Title Match
Jonathan Gresham (c) vs. Bandido (w/Chavo Guerrero Jr.)
Time to determine the Undisputed ROH World Champion. Bandido defeated Rush for the title at Best of the World 2021, and was scheduled to face Gresham at Final Battle 2021 but was pulled. Lethal vs. Gresham was put in place for the "vacant" title. They fought over the original version of the title belt, the title that Gresham has held since Final Battle while Bandido held the newer version. Chavo Guerrero Jr. accompanies Bandido, Bandido asked Chavo to please don't cheat during the match. The future of Bandido like much of the lucha guys that were in ROH pre-hiatus is kind of up in the air.
Chavo is discouraging the Code Of Honor, Bandido honours it after Chavo exits the ring. Chavo doesn't seem to pleased. Gresham fresh off winning wXw 16 Carat Gold 2022 and the PROGRESS World Championship. Bandido has been splitting his time between Mexico and the US for his wrestling. The technical wrestling favours the Octopus by a long way, Bandido appears to be trying to match him but he needs to use his innovation, strength and speed to get to Gresham. They go tit for tat, showcasing their best shot and striking a pose in a game of one-upmanship.
Bandido employs a bit of that Mexican submission style to counter Gresham's limb manipulation, unfortunately for Bandido, Gresham knows counters for almost everything. The Octopus saying to his opponent that you can put me in whatever but I'm getting out of it. After their game of one-upmanship, it's largely technical and lock work and it ultimately favours, as expected, Gresham. Bandido needs to be quicker but the joint and limb manipulation of Gresham is something else. Almost as if every time Bandido goes to escape, it locks in tighter.
Luckily for Bandido, he has unlimited rope breaks to use. Bandido manages to arm-drag his way out of Gresham's clutches and picks up the pace massively. The match starts moving in Bandido's favour. Bandido shows his flair and his strength, holding Gresham up for a Suplex for a minute. Gresham isn't a small dude, height wise yes, but the guy has serious bulk on his pectorals and shoulders. Gresham recovers from his time upside down and hits a series of German's on Bandido. Bandido is back in the mire and clutches of Gresham. The Mexican's flurry seems over as he collapses into the ropes while in a Gresham Octopus Stretch.
Standing toe to toe in the middle of the ring, they trade blows. Bandido hits a quick succession of moves, a Snap Suplex and a Shining Wizard. Bandido tries to capitalise further but his knee buckles from all the work that Gresham has done to Bandido and his body. The crowd chant "This is wrestling" and it's hard to disagree. Back to trading blows in the middle of the ring. Bandido hits Gresham with a Superkick, Gresham knocks over Turner. Chavo hits Gresham with the title as Turner was down but Bandido tells Turner about the interference and Turner ejects Chavo. I have never seen this before.
That display of Honor from Bandido could have cost him that match, it allowed Gresham time to recover. They go through a flurry of offence. Throwing it all at one another, pulling out their big moves. Gresham kicks out of the 21 Plex? Something I've also never seen before. Gresham rebounds, goes at Bandido and rolls him up and traps him in a pinfall for the win. Gresham becomes the Undisputed ROH World Champion. Bandido hands Gresham his title.
Post-match, Gresham gets on the microphone, states his mission that his vision was to make ROH Pure but Lethal comes out and immediately makes it about himself. Making him the first challenger for Gresham. Gresham says his current actions says that means he has changed, and Gresham get stuck into each other. Sonjay Dutt breaks it apart. But it was all a ruse and Sonjay turns on Gresham. Moriarty makes the save but Lethal and Dutt make easy work of Moriarty.
Lethal picks up the titles as Dutt and Lethal embrace. Ominous music hits and it's Samoa fucking Joe. Joe makes his way to ring and stares down a rather terrified looking Lethal. Dutt encourages Lethal to leave as he gets locked in a choke by Joe. Lethal manages to save Dutt and make their exit. Joe gets Gresham back into the ring. They shake hands, Joe and Moriarty raise the champions arms aloft. They stand on the turnbuckles as the feed fades to black.
Afterthoughts
Overall, this is up there as one of my favourite shows of the year. For me it was a real return to form for Ring Of Honor. I imagine if you were a fan of the Sinclair-era of ROH you'll probably be a little disappointed with the outcomes of the ROH Tag and Pure Championship matches, yes, FTR and YUTA are AEW, but if the company wasn't owned by Khan and the titles were still changed, I wouldn't find fault with FTR or YUTA winning. My only real criticism is the advancement of AEW storylines on an ROH show. But to counteract I do think Khan probably has a story, a plan, in the works, so my optimism for the future of Ring Of Honor remains.