Thank you all for checking out our previous article, based on pivotal moments in the Classic Era of wrestling. Let's now look at the more recent moments that lead to the evolution of the product we all know and love today.
End of the "Monday Night Wars" – 26th March 2001
For many years, three main promotions in North America competed for air time and in turn that competition provided some of the most memorable TV for decades. It wasn't just the fans that benefitted from having so many options for their grappling fix though.
Talent could almost guarantee a job with one of the "Big 3" and the free agent market often provided as much drama as the television shows. Without the Monday Night Wars, you never have the need for the Montreal Screwjob, the rise of the Vince McMahon character or even the entire Attitude Era. When WCW's parent company merged with AOL, a series of mismanagement and WWF's ratings dominance eventually led to WCW's demise. Many more factors played a part in the end of WCW of course, so check out the book Nitro by Guy Evans, who covers this in much greater detail.
By 23rd March 2001, WCW found themselves without a TV deal and a bid from Eric Bischoff's production company falling through, Vince McMahon himself made an offer. WCW's final Nitro aired the following Monday and the war was over. ECW folded shortly after due to severe financial issues and for the first time in history, WWF had no mainstream competition and there was only one company left to earn a good living in professional wrestling.
Deaths of Eddie Guerrero & Chris Benoit – 2005 & 2007
Wrestling was sadly well known for its low life expectancy with many deaths of relatively young talent, the majority being due to the lifestyle of performers. Working through injuries, the pervasive use of drugs and alcohol on the road as well as steroid use, were contributing factors. 
Despite overcoming addiction in a real-life redemption story, Eddie Guererro was found dead in his hotel room in November 2005. The cause of death being acute heart failure at the age of 38, linked to his history of drug and steroid use. The effects of Eddie's death on the roster of WWE and its fanbase were immeasurable, with his best friend Chris Benoit hit particularly hard. 
Chris Jericho explained that Benoit "became more and more of a hermit" and that in many ways it ended his friendship with Benoit due to how withdrawn he had become. Vickie Guererro told of how it had been much more difficult to reach him at shows. Nancy would also call Vickie to tell her of his paranoia and fights they'd have about leaving wrestling.
On 25th June 2007, officers were dispatched for a wellness check to the Benoit home. What they would find would turn the wrestling world upside down. The double-murder suicide of Daniel, Nancy and Chris Benoit sent shockwaves through the industry leaving the mainstream media asking: "Why did this happen?" 
Every move WWE made was scrutinised going forward, exposing the more unsavoury elements of the wrestling business and drastic action needed to be taken following both of these events. WWE introduced their Wellness Policy after Eddie's death though many found loopholes to avoid suspension. After Benoit, the rules were tightened, leading to a wave of suspensions across the whole company. Many fans, disgusted with WWE's practices, stopped watching. Like the aftermath of the steroid trial, younger and more naturally built talent now had the opportunity to progress up the card again, leading to another evolution in western pro-wrestling.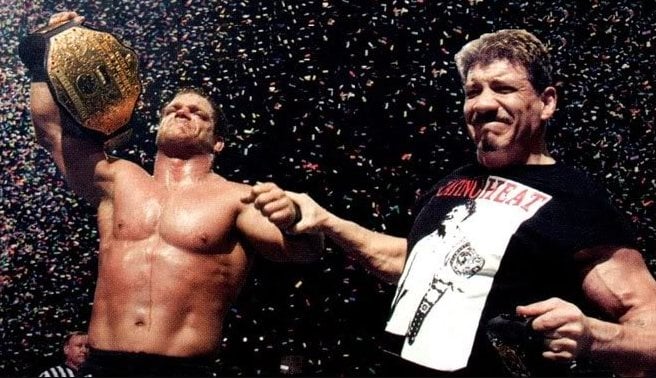 Launch of the WWE Network – 24th February 2014
With viewership and revenue from PPV dropping year on year, WWE were searching for a way to freshen up the viewing experience and hopefully stem the steady loss of viewers. Having witnessed the rapid rise of the likes of Netflix and before streaming became commonplace, WWE created the WWE Network. For a single monthly subscription of $9.99, fans would get access to every PPV WWE produced live starting with the upcoming WrestleMania XXX.
Given that PPVs cost $60 each, this was a huge discount for the viewer. Of course, much of WWE's PPV audience would perhaps only purchase one or two PPVs a year. By providing such a low cost of entry, it was reasoned that the loss of individual PPV revenue in comparison would be minimal. WWE also had 1000s of hours of content in its library that could be leveraged to keep fans engaged between shows. Up until that point, if you wanted to watch an old show, even one that had only aired a few months prior, you had to track down the DVD or hope that someone had uploaded a dodgy copy to the likes of YouTube or torrent sites.
By providing a single platform to access these shows and historic footage, WWE would not only benefit financially from their ownership of the library but practically wipe out the rampant piracy of their materials overnight. Fans would often buy the network for an upcoming PPV and forget to cancel. Young wrestlers could also study a huge library of matches from a single source producing well rounded talent coming through the Indys from then on.
Formation of All Elite Wrestling (AEW) – 1st January 2019
It started with a single tweet in May of 2017:
This caught the attention of Cody Rhodes, who had been released by WWE the year prior. Having been tearing it up on the indies and witnessing the growth of smaller companies like ROH firsthand, he replied:
Shortly after, "All In" emanating from Chicago was announced. Not only did they sell those 10,000 tickets, they did so in just a few hours. 
Off the back of the show's huge success and with their NJPW contracts expiring at midnight of New Years Eve 2018, Cody Rhodes, The Bucks and Hangman Adam Page announced not only that All In was getting a sequel in the form of Double or Nothing but that their own promotion "All Elite Wrestling" was born.
More details would emerge, chiefly that they had a multi-billionaire backer in the form of Tony Khan and would be producing a weekly television show on a national level. Whilst the likes of TNA and ROH would flirt with rivaling WWE over the years, it was sadly a stretch to view them as genuine competition to the juggernaut. This was different. With seemingly unlimited financial clout and national television, AEW was a viable alternative. Providing another option not only to fans but for talent who only had one place to go if they wanted mainstream exposure.
Thank you for joining me on this journey through wrestling history. Given the longevity of the business overall, there were many more moments that could have been included and much that could be expanded upon further. The sport we know and love will continue to adapt and change over the coming years, and I will watch with bated breath for what comes next.
Let us know on Twitter some of your favourite moments we may have missed.