AAA's TripleMania 29 takes place on the 14th of August in Arena Ciudad de Mexico. Triplemania is their premier event of the calendar year, it is AAA's version of WWE's WrestleMania, NJPW's Wrestle Kingdom etc you get the drift. It's a big deal in the world of AAA. Unfortunately for fans outside of Mexico, the broadcasting of AAA outside Mexico is currently up in the air due to a lawsuit involving AAA and the parent company of Lucha Underground.
However, the show will make it online (AAA don't seem to care about people illegally watching it right now) and if you've been watching wrestling on the internet you know where to look. If you're stuck looking for it, send us a tweet and I'll provide links.
Lucha Libre AAA have largely been running no fan shows during the pandemic except for the Auto Luchas events (it's something like a Drive-In Cinema but Lucha) unlike the other major Mexican promotion (& rival) CMLL who have in recent weeks allowed fans back into arenas in conjunction with local authorities guidelines. To the best of my knowledge, this will be AAA's first show in quite some time with fans in attendance, though with recent spikes of cases in Mexico and Mexico City, this could put having fans in the building into jeopardy. The 29th edition of AAA flagship show has a very good card on paper with three title matches and a Lucha de Apuestas (a wager match) in the main event.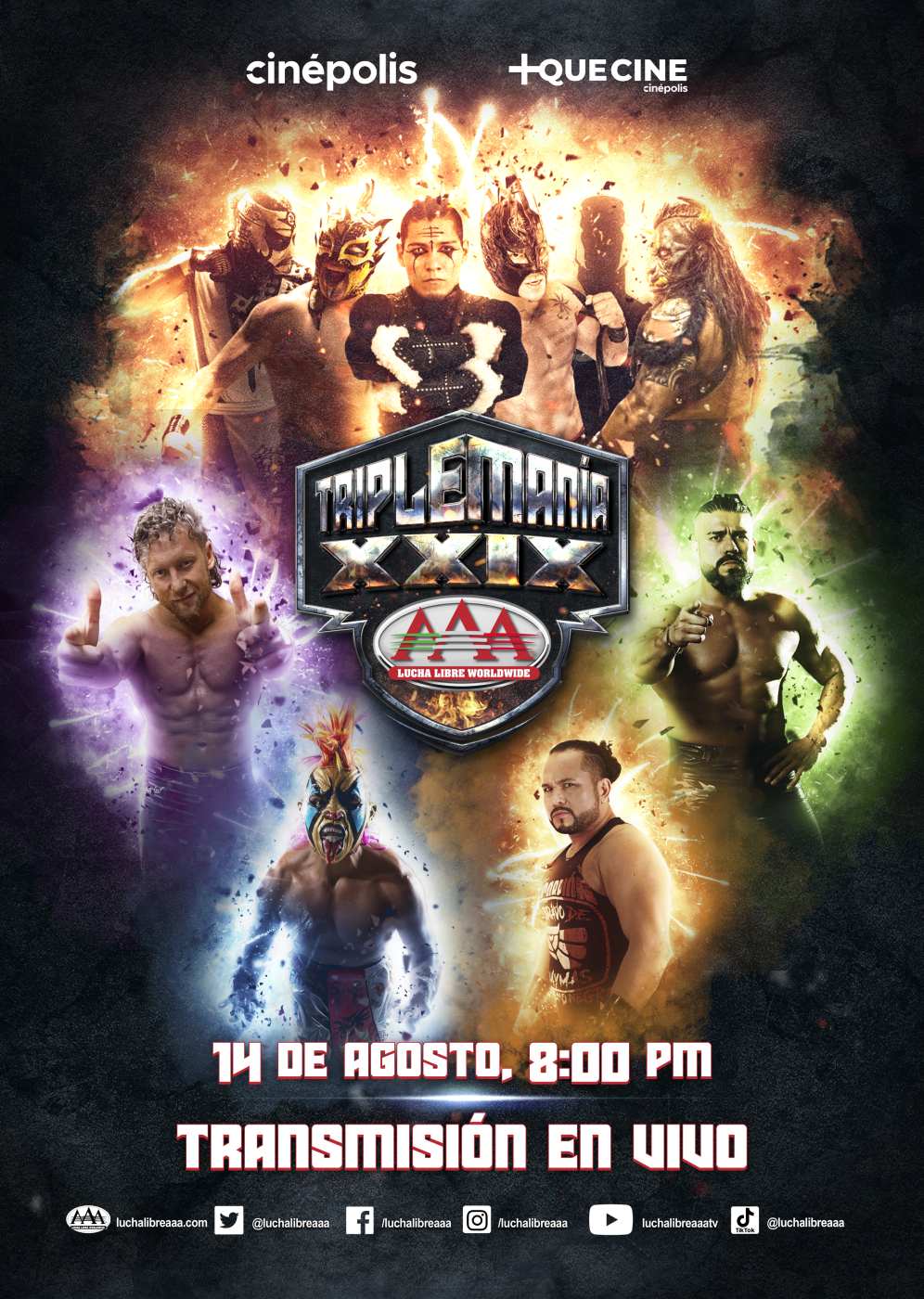 Marvel Lucha Libre Match
Team Leyenda Americana vs. Team Terror Purpura
Marvel Lucha Libre is a project between AAA and the Marvel Universe (y'know, all those superheroes), all the Luchadors in the Marvel Lucha Libre fights have masks and gimmicks inspired by characters from Marvel. I'm not sure how what configuration of a multi-man tag team match is going to happen due to AAA previously saying more characters will debut.

The match graphic suggests it will be the ones we already know with Leyenda America, Estrella Cosmica and Arcano vs. Terror Pupura, Picadura Letal and Venenonide. The guys under the mask are some of the best cruisers (eg: Hijo del Vikingo & Octagon Jr) in Mexico so it will be a lively opener whether it will be a Trios as the graphic suggests or we get more heroes and villains debuting.
You can read a bit more about the AAA & Marvel alliance here:
https://www.marvel.com/articles/culture-lifestyle/new-wrestlers-iconic-super-heroes-marvel-lucha-libre

Copa Bardahl Cibernetico 12 Way Match
Drago vs. Mamba vs. Mr. Iguana vs. X vs. XX vs. XXX vs. XXXX vs. XXXXX vs. XXXXXX vs. XXXXXXX vs. XXXXXXXX vs. XXXXXXXXX
The traditional (for the last few years at least) Copa TripleMania Cibernetico is also traditionally a dud, terrible or just plain boring. Which is kinda sad cause I like both Drago and have come to enjoy Mr. Iguana in recent weeks but with so many X's, my hopes for a change in the Copa TripleMania is slim. Ultimately it depends on the calibre of Luchadors and/or Luchadoras to fill those spots.
Will it be the likes of Michael Nakazawa? Or will it be guys like Toxin, Latigo, Arez or Aramis, or girls like Lady Shani, La Hiedra or maybe even a returning Goya Kong? It could also be a combination of three. I just have no idea, I just want it to be as good as the other Copa's or Rey de Reyes Cibernetico matches.

A Cibernetico is an elimination match with multiple people, it was historically a team or tag team set up but has included singles workers and differing rule sets depending on promotion. The Cibernetico here looks like a straight up single elimination, pin, or submission. I don't think Over The Top Rope elimination will be active to allow for Topes and Dives.
I imagine Drago will win unless someone massive is one of the "mas Luchador sorpresa".
AAA Reina de Reinas Championship & Impact Knockouts Championship Match
Faby Apache (c) vs. Deonna Purrazzo (c)
This match was bumped down to the 3rd after being previously placed after the Team AAA vs. La Empresa, but in all honesty, the crowd and atmosphere could be dead after that wild brawl. They can also heat up the crowd again from this position if the Copa TripleMania dud repeats once again. Purrazzo appeared in AAA back at Rey De Reyes 2021 on the 1st of May. Confronting and challenging Apache right after she had just become a 4x AAA Reina de Reinas Champion.
I haven't seen much build for this since Purrazzo made her appearance back then, I don't watch Impact so they may have brought it up there. I don't see Apache retaining and winning the Impact Knockouts title, this match seems like Purrazzo will be taking the belt back to the States, or it ends in a draw. AAA wouldn't mind their main singles females title being away, similarly to how Omega has the Mega Championship.

This could be a very good match and one of the highlights of this years TripleMania, Faby Apache is one of the best Luchadoras in Mexican Lucha history, and Deonna Purrazzo is a really technically gifted worker. We could see a lot of submission based lucha here and I'm all for it.

AAA World Tag Team Championship 3Way Tag Team Match
The Lucha Brothers (Fenix & Pentagon Jr.) (c) vs. Los Jinetes del Aire (El Hijo del Vikingo & Laredo Kid) vs. X & Black Taurus
Los Jinetes del Aire are my favourite stable in Mexico right now, and I'm not quite sure AAA fully appreciate what have yet in El Hijo del Vikingo. He is easily one of the most talked about Mexican Luchadors outside of his home country. His only title history to speak of right now is being a 2x AAA World Trios Champion alongside his Jinetes del Aire brethren, and sadly I don't see that changing here at TripleMania. I'd very much like to be wrong though on that count though.
Lucha Brothers 785+ day reign will more than likely continue, they add name value to the titles and unless I get my wish of a Jinetes victory or the mystery partner for Black Taurus is mind-blowing. This match features 4 agile guys in Fenix, Pentagon Jr, Vikingo & Laredo Kid whose main objective when taking to the skies is to inflict as much damage on their opponent as possible. The best kind of high-flying if you ask me. In Taurus, they have an exceptionally strong base to work off and Taurus will add the power to the bout.
I'd expect a Lucha Brothers retaining, and not so surprising mystery partner but an exceptionally good 3Way Tag Team bout.

6Man Tag Team Match
Chessman, Murder Clown & Pagano vs. La Empresa (Sam Adonis, DMT Azul & Puma King)
The messaging from AAA on the La Empresa side has been confusing at best, Puma King and his mystery partners from La Empresa have been the match graphic for weeks. La Empresa attacked Team AAA at a press conference, though two were masked. Puma King has been regularly tagging with DMT Azul in IWRG and the Mexican Indies since they left CMLL, so I guessed he was one anyway. And Sam Adonis made an unwelcome return (in my opinion anyway) at Rey de Reyes 2021 was more than likely the other. I don't think any other rudo, nevermind another CMLL defecting rudo is about to take the spot of Adonis.
Chessman, Murder Clown & Pagano make up Team AAA. Pagano & Murder Clown are both technicos while Chessman is a rudo. This probably wouldn't usually be an issue except for the fact that Pagano and Chessman have been feuding since 2020. 2020 culminating in Pagano taking Chessman's hair at last years TripleMania in December. 2021 has seen them on opposing sides multiple times.
I could see Chessman turning on Team AAA, as well as it just being a wild brawl with La Empresa to begin with. The wild brawl has been DMT Azul & Puma King's go-to in IWRG and elsewhere. Why change their winning formula? This could be a mess and thats why I think the Apache vs. Purrazzo match being bumped down was better for them.

AAA Mega Championship Match
Kenny Omega (c) vs. Andrade El Idolo
Is it time for Kenny Omega to lose one of his belts? Or would AAA rather build up someone else, or does Andrade have enough star power north and south of the Mexican border to make AAA consider bringing their top male singles title back to Mexico? I'd personally go with Andrade. It also very much be a gut punch to their main rival CMLL. I remember Andrade more so from his time in CMLL and NJPW as La Sombra than what he did in WWE, and I've yet to see him wrestle in AEW. I've only seen highlights of matches he has since his release and he looks good.
A very good high-flyer in his day with the technical prowess to boot, Andrade has the in-ring ability to be a significant threat to Kenny Omega's reign as the AAA Mega Champion. It'll be interesting what kind of Omega performance we get here, will it be the goofball heel from AEW in recent weeks or will we get something closer to The Cleaner from his time in NJPW?
This could be MOTYC territory if both are on their game on the 14th.
Lucha de Apuestas
Mascara Contra Cabellera Match
Psycho Clown vs. Rey Escorpion
The main event sees the best built match, AAA have actually put some effort into building this feud. Rey Escorpion in recent weeks on AAA programming and social media vignettes has been attacking Psycho Clown. Escorpion and Los Mercenarios has attacked while Clown was out jogging with his sister Goya Kong and while Psycho Clown was giving an interview to television in his home. This isn't the first time Escorpion has been in this position with a member of Psycho Clown's family. There is also history at play here.
Back in 2013, Rey Escorpion took the hair of Brazo de Plata at a CMLL Super Viernes show. This was also Brazo's last Lucha de Apuestas match, Escorpion was Brazo de Plata's last great rival and storyline. Brazo de Plata (aka Super Porky, RIP) was also the father of Psycho Clown. Psycho Clown when he initially made his AAA debut after leaving CMLL with his father, he was packaged as Brazo de Plata Jr. Clown didn't do well as Kronos in CMLL, but under the mask of Brazo de Plata Jr and with additional training Gran Apache. Initially, Clown didn't fair too much better as Plata Jr and was later repackaged as Psycho Clown.
The fallout from that 2013 that seemed like Maximo (another son of Brazo) would avenge his father by defeating Rey Escorpion. That never happened as Rey Escorpion would leave CMLL, but in 2017 Rey Escorpion found his way back to AAA. Now, the other son of Brazo, Psycho Clown, the top technico in AAA today will stand face to face with his fathers last great rival, Rey Escorpion. At TripleMania 29, Psycho Clown will avenge his father.
Helpful Info

Rey Escorpion vs. Brazo de Plata, CMLL 2013
https://www.youtube.com/watch?v=9vwVkR2V6iI
The reason why I repeated that AAA don't mind their titles, particularly singles titles being elsewhere is because in Lucha Libre trios and wager fights are more important than single action.
Technico & Rudo is the Face & Heels of Lucha Libre.
Lucha de Apuestas is a "wager match" where a wrestler or team will wager their hair or mask. Mascara is mask, and cabellera is hair.
AAA Reina de Reinas Championship literally means AAA Queen of Queens. It is the primary women singles title in AAA.