The rivalry between KENTA and Katsuhiko Nakajima which played out between 2008 and 2013, is one that is easy to watch and hard to write about. Despite fiery in-ring chemistry and technical capabilities in the ring, the story being told by the two was often not a simple one. And in its earliest instalments, it did not involve just the two of them. The opening salvos of the feud between KENTA and Nakajima prove to be as much about two precocious upstarts, with a shared background for vicious, biting kicks, as they are about their respective father figures. In Kenta Kobashi and Kensuke Sasaki, respectively, KENTA and Nakajima would find a mentor and a lineage in professional wrestling which they could build upon in carving out their own paths.
Kobashi is a legendary figure in Japanese professional wrestling and a fiery, domineering presence in the ring. The perpetual underdog, he spent the 1990s in All Japan Pro Wrestling (AJPW) as the number two behind company ace Mitsuharu Misawa. Together with Toshiaki Kawada and Akira Taue as the 'Four Pillars of Heaven,' they became the mainstays of that company's commercial and critical success and drew repeated sell-out crowds at the Budokan in Tokyo. Then, in 2000, Misawa led almost the entire AJPW roster on an exodus to form Pro Wrestling NOAH after backstage disagreements with the wife of AJPW's late founder, Giant Baba. It was in 2003, in a match that has become the stuff of legend, when Kobashi would finally surpass his longtime rival definitively and embark on a record-setting title reign with NOAH's GHC Championship.
KENTA may have struck a less imposing figure compared to his mentor, but his no-nonsense demeanour in the ring and kickboxing background gave him a credibility that allowed him to move beyond the limitations of weight classes. With his full name being, curiously, Kenta Kobayashi, he was selected personally for training by Kobashi on the basis that his name differed by only one syllable. As a model of the dynamic, fluid wrestling that Misawa wanted to promote in the fledgling NOAH, KENTA quickly racked up wins and accolades. By 2008, when our story begins, he was being hailed as one of the best in the world, after acclaimed year-long runs with the Junior Singles and Tag titles. He had even forced Kobashi to bring out his ultra-finisher of sorts, the Burning Hammer, during a singles clash in 2006.
Sasaki might be termed the villain (or heel, in pro wrestling speak) of our piece. The outside forces entering a larger promotion are often depicted as such in 'invasion' storylines, where an ensemble of fan-favourite heroes must step up to defend their home promotion. Sasaki is also, at least among English-speaking fans, a curious figure. He was the first to hold a singles title in all three of the traditional men's promotions—New Japan, All Japan and NOAH—an accolade that has as much to do with in-ring talent as it does with his status as an in-demand freelancer during a period of box-office stagnation. As the Japanese economy struggled and wages stagnated in the mid-2000s, major promotions were not only competing amongst themselves, but with the glitz of mixed-martial arts promotions like PRIDE and K-1. With a wide, bottom-heavy physique and an in-ring moveset bolstered by his time training in MMA between 2001 and 2003, Sasaki offered a sense of real physicality and violence that all three of the major promotions were keen to harness. In many respects, Sasaki slotted into the void left by the untimely death of Shinya Hashimoto after he left NJPW to form Zero-1, and especially after his death in 2005.
For several reasons, however, his legacy pales in comparison to his contemporaries, at least among English-speaking fans. He did not see the crossover success that wrestlers like Keiji Mutoh enjoyed in the United States, and his character often feels like it was limited to being strong, aggressive, and winning everything. For better or worse, Sasaki is the personification of fighting spirit in Japanese pro wrestling. His penchant for violence in the ring is also, unfortunately, accompanied by a reputation as one of the harshest and most demanding trainers. As the documentary film Gaea Girls (2000), which follows Chigusa Nagayo's trials in women's promotion GAEA shows, earning your stripes could mean undergoing physical and emotional violence and even abuse. The allegations of his involvement in the death of Hiromitsu Gompei in the New Japan Dojo in 1993 have done much to sour his legacy as a professional wrestler.Already a practiced karateka, Nakajima made his wrestling debut at the age of 15 in January 2004, a much-hyped rookie in Riki Choshu's World Japan promotion. As was sometimes the norm, he was pushed to compete in MMA to bolster his credibility as a competitor, achieving victory by TKO over a predictably unmotivated US fighter named Jason Leigh. When World Japan collapsed, Sasaki, who had been working freelance there, took Nakajima under his wing in the very literal sense of the phrase. It was, as Hi5ame has described, a "semi-adoption" by Sasaki and his wife, retired pro wrestler Akira Hokuto. Nakajima, who had been estranged from his family by birth, lived in their house and even appeared in magazine shoots as a member of the 'Kensuke Family.' By the time Sasaki's own promotion Kensuke Office began to run regular shows in 2008, Nakajima had title reigns with the WWA World Junior Light Heavyweight title in Japanese indie Zero-1 (297 days) and All Japan Pro Wrestling's World Junior Heavyweight title (378 days). Alongside Sasaki, he would come to be a central figure in the small promotion and in its involvement in NOAH.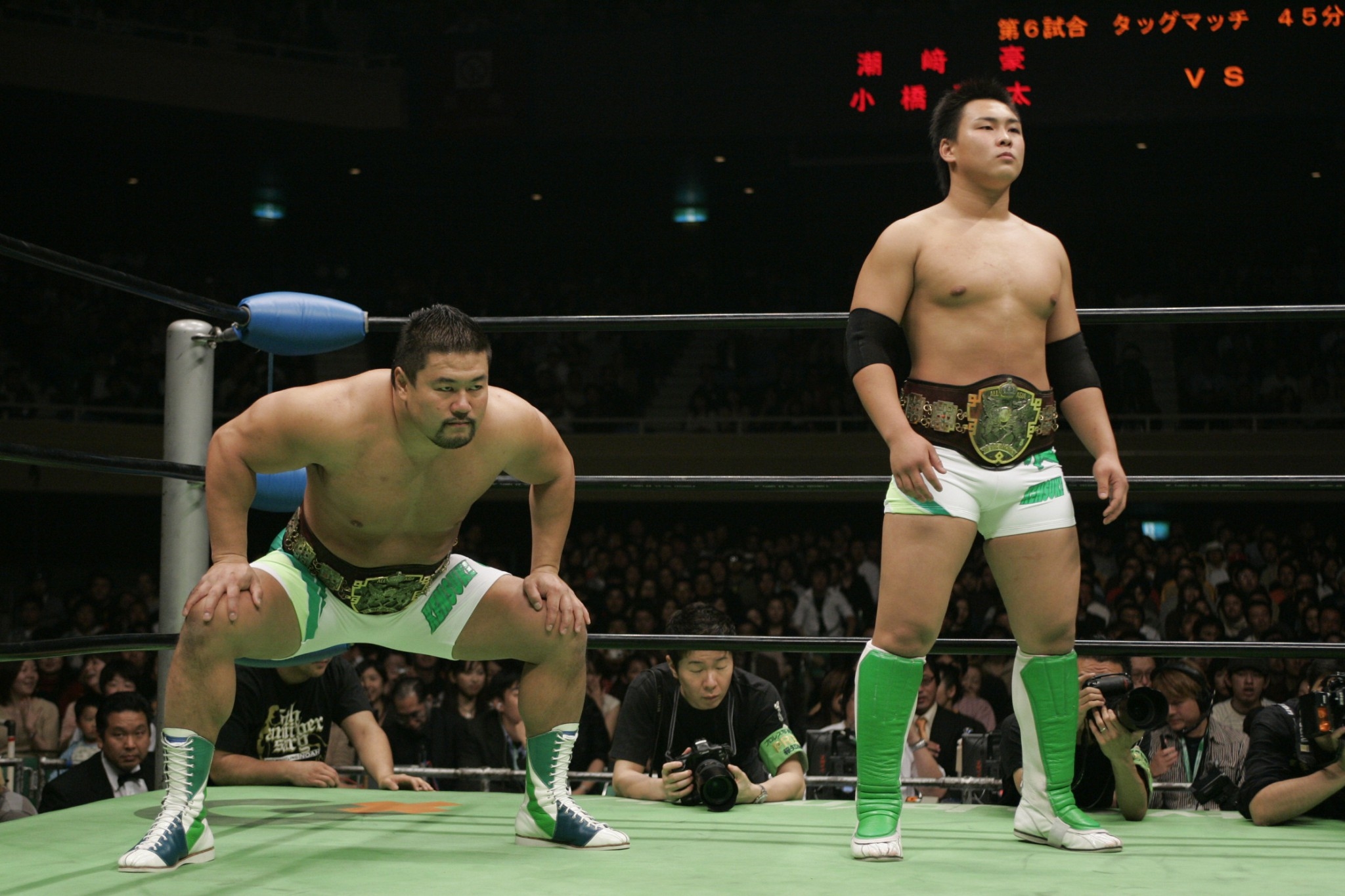 Setting the stage
Sasaki and Kobashi had already had one very infamous encounter in the Tokyo Dome as part of NOAH's Destiny 2005 show. Unlike the main event, which was a historic reunion of former rivals Mitsuharu Misawa and Toshiaki Kawada, their clash would be promoted on name-brand alone. Sasaki was parachuted in especially for the match and did not appear at any NOAH shows beforehand. As Chris Charlton notes in Eggshells, the two reportedly did not even speak prior to getting into the ring with each other. Nonetheless, the match has become historic as a high-point of Kobashi's storied career and a shining example of the big-match fighting-spirit formula executed to perfection. An exchange of 187 knife-edge chops, which Kobashi would eventually win, lasted for almost five minutes. He would eventually score victory with a series of half nelson suplexes, backfists and then a signature Burning Lariat.
If it was the strained state of the professional wrestling industry in Japan which had prompted Sasaki to be brought in as a freelancer in 2005, the situation had only grown more dire by 2008. Back then, NOAH had what Chris Charlton termed "a bigger piece of a smaller pie," but the pie was shrinking further and rival promotions increasingly desperate for their own share of the spoils. Sasaki had appeared in a variety of different promotions in the interim, namely AJPW, where he won the Triple Crown from Minoru Suzuki in August of 2007 and dropped it to rising star Suwama eight months later. The foundation of Kensuke Office in 2008 offered the tantalising prospect of an invasion angle that could get home-grown stars over with the fans, galvanise fan support for NOAH and reunite Sasaki with Kobashi. Although invasion angles have sometimes had mixed results from a critical standpoint, they have always been a reliable means of putting butts in seats. The feud between New Japan and shoot promotion UWFI in 1995 drew several of the largest crowds in puroresu history up to that point. For Sasaki, it would be the first major-league partnership for his fledgling promotion. And so, as Nobuhiko Takeda would lead the UWFI into New Japan years prior, Sasaki would lead Kensuke Office into NOAH in the year 2008.
It was natural that KENTA and Nakajima would come to blows in any potential invasion angle, as the respective golden boys of their promotions and talents that NOAH and Kensuke Office would be keen to showcase. Beyond their violent, kinetic wrestling styles, they shared a boyish demeanour and curt seriousness such that you could almost believe the two were brothers. KENTA pushes around Nakajima, seven years his junior, akin to how one might bully a younger sibling. And it is this, which curiously becomes the crux of this first stage of their rivalry. There are wrestling feuds which have real-life anger bubbling below—an anger which, fans speculate, seeps to the surface as the match unfolds in the ring. There are wrestling feuds which give the impression, whether through performance or sheer violence, that you are watching real anger and tension play out in the ring. The first matches in the KENTA and Nakajima feud have neither of these things, because it was not truly their fight.
13 April 2008. Hakata Starlanes, Fukuoka. Global Tag League 2008.
Kensuke Office (Katsuhiko Nakajima, Kensuke Sasaki & Ryuji Yamaguchi) defeat KENTA, Kenta Kobashi & Shuhei Taniguchi (34:13)
Even in the earliest stages of the Kensuke Office and NOAH feud, however, the exchanges between the two were laced with a palpable intensity and urgency. Here, the two immediately set into each other with kicks and strikes. The meeting is only a very short fraction of the match, but you get a sense of two men who are determined to prove themselves to each other as performers and in a storyline sense, as professional wrestlers. As a jumping-in point, this match aptly sets the tone for the unique and fluctuating booking adopted in the invasion storyline. Nakajima is both the underdog who must survive the onslaught delivered by Kobashi, and the dangerous combatant who leaves Shuhei Taniguchi being seen by (storyline) medical staff at the end of the match. The face-heel (or good-guy bad-guy dynamic) is one with which the booking experiments throughout the feud, especially depending on whether or not the match is in front of a NOAH or a Kensuke Office crowd.
13 June 2008. Osaka Prefectural Gymnasium, Osaka. Kensuke Office Take the Dream Vol. 5
KENTA defeats Katsuhiko Nakajima (27:35)
Bolstered by success in a series of invasion tag-matches, including a win over KENTA and trainee Genba Hirayanagi in early June, Nakajima would fight KENTA on his own turf in front of a crowd of 2000 in Osaka. In the pre-match video, both men are bullish and confrontational. Nakajima expresses his desire to reach the position that KENTA has achieved in wrestling, who in turn suggests Nakajima still has some way to go yet and vows to end their feud definitively.
The match itself opens with the two trading big boots, hard slaps and kicks in the scramble for an advantage. Although it is Nakajima who takes most of the punishment, including a diving knee to the head while draped over the ropes and a Death Valley driver to the floor, he refuses to go down, constantly waiting for an opening to reverse a move or land a strike to a vulnerable part of the body. The best of these sequences is a basaiku knee reversed by Nakajima into a variant of Samoa Joe's muscle buster, in the air. In a shocking turn and a remarkable show of confidence in the young wrestler, Nakajima is allowed to kick out of KENTA's finisher, the Go To Sleep (G2S) and has to be put down with a second one after repeated kicks to the head. The clash, while perhaps running a little too long, successfully introduces KENTA to Kensuke Office and builds upon the underdog performance put on by Nakajima in the earlier tag matches by demonstrating awe-inspiring resilience. Although defeat at the hands of KENTA in front of his home audience is a humbling reminder for Nakajima that he is still the rookie, it does not spell the end of the feud between NOAH and Kensuke Office.
14 June 2008. Yokohama Bunka Gymnasium, Kanagawa. NOAH Great Voyage 2008 in Yokohama
KENTA & Kenta Kobashi draw with KENSUKE OFFICE (Kensuke Sasaki & Katsuhiko Nakajima) (30:00)
Tradition in wrestling booking would dictate that tag matches are used to build anticipation for the big, blow-off singles match. Promoters will save the energy of your big stars by having them compete in a team, and use small interactions and exchanges to establish story beats in the run-up to the big match. There is no better signifier of the state of the feud, than KENTA and Nakajima's first singles match actually being the teaser for a tag-team clash featuring Kobashi and Sasaki taking place the next day. Even with efforts being made to build up wrestlers like KENTA, the heavyweights were still being booked as the main attraction. This refusal to strap the proverbial rocket to their smaller wrestlers was one that would plague NOAH through the 2000s, as KENTA remained in the Junior Heavyweight mix until 2012 and only won the GHC Heavyweight Championship in 2013. Nonetheless, this match would bethe first classic between KENTA and Nakajima, delivering all that you could want from a main-event tag in front of a thunderous crowd.
KENTA has his first meaningful exchanges with Sasaki early on, kicking him in the head and back repeatedly and in return, is met with a lengthy and brutal control sequence by the Kensuke Office pairing. Repeated kick-outs and a count-out spot build tension for the arrival of Kobashi, who retaliates with a vicious assault on Nakajima that culminates in him being knife-edge chopped with his neck draped over the apron. Whatever ground Nakajima claws back, painstakingly, is won with the assistance of Sasaki, such as when he struggles to get KENTA up for a german suplex only for Sasaki to suplex both of them in one of the most memorable spots of the Kensuke Office vs. NOAH rivalry. Sasaki and Kobashi then each deliver blistering chops to the chest of the other man, calling back directly to their Tokyo Dome match in front of a now ravenous Korakuen Hall.
The decision to prioritise the Kobashi and Sasaki aspect of the feud in the booking is somewhat vindicated once the youngsters tag back in, as all of the momentum from this exchange is converted into support for Nakajima and KENTA. They begin trading power moves, suplexes and submissions, each movement giving way to a new change of course. The difference to the earlier, fighting-spirit style exchanges between Sasaki and Kobashi is striking. Rather than kicking out, this time Nakajima even manages to absorb the impact of a G2S and wrangles it into an ankle-lock. KENTA then reverses a German Suplex attempt into a roll-up pin as Kobashi and Sasaki trade chops on the outside. Another G2S is pivoted into a Crucifix pin by Nakajima, and then, the bell. The match goes to a time-limit draw after thirty-minutes.
Once the bell goes, both pairs refuse to stop fighting and have to be manhandled off each other by wrestlers and ring crew. Flared tempers eventually recede as Sasaki and Kobashi shake hands in the ring, less a conciliation or an end to the feud as a show of respect and an agreement to keep fighting. When KENTA extends a hand to Nakajima, he responds with stiff forearms, and the two once again come to blows, lashing out through a swarming mass of limbs.Rather than emphasising the idea that KENTA and Nakajima's hatred for each other exists outside of sport or a desire to be the best, it instead plays up their relative inexperience. There is no pre-existing event or backstory causing the two to have such a visceral hatred for each other, and whatever anger and violence might be motivated by the factional war between NOAH and Kensuke Office, it was just now quickly put to one side by their elders and mentors. Is it a case of bad storytelling, then? They hate each other simply because they do and because the invasion storyline requires it? No. We are seeing two precocious upstarts playing up to perceived expectations about what it means to be a professional wrestler.
17 August 2008. Korakuen HALL, Tokyo. SEM/Kensuke Office SEMx ~Take The Dream Vol. 6
Eight Man Tag Team Survival: Kensuke Office (Kensuke Sasaki, Katsuhiko Nakajima, Kento Miyahara & Takashi Okita) defeat Kenta Kobashi, KENTA, Akihiko Ito & Atsushi Aoki (55:30)
Some two months later, the Kensuke Office and NOAH feud finally comes to a head in the form of an eight-man elimination match. Each team starts with two men and anyone pinned or submitted is replaced with someone else from their team, until there are only two men on each team. At this point, it becomes a conventional two-on-two tag match. If the previous match made evident that exchanges between the older wrestlers could be used to generate investment in the new talents, this match takes that idea to its logical conclusion by opening with a frenetic sprint featuring the rookies (Miyahara and Okita from Kensuke Office and Aoki and Ito from NOAH). The enthusiasm and speed of Dojo wrestlers can be infectious, and here it comes with technical prowess and personality. The future All Japan ace Kento Miyahara lands a spectacular northern lights suplex on KENTA, while Akihiko Ito bulldozes his way through KENTA and Aoki with charging elbows and shoulder-blocks. A sequence of submissions and pins leads to the inevitable, as Kobashi comes out to join KENTA and the Kensuke Office team is whittled down to Nakajima and Sasaki.
As we see the first exchanges between Sasaki and Kobashi, it feels as if a switch has flipped as the anticipation is instead built for the two younger wrestlers. Nakajima and KENTA stare at each other, the squared circle between them representative of shared hopes and aspirations. In spite of a renewed confidence and vigour, Nakajima once again becomes the underdog. After KENTA delivers a diving top-rope knee drop to a Nakajima slumped over the railing, Kobashi chops him over a railing and seats him on a chair in the audience to deliver further chops. The control segment goes on for an age, as he is put in a stretch-plum and a sleeper hold and is hit with chest kicks and a sleeper hold. Nakajima successfully makes a tag to Sasaki, who delivers power moves to KENTA and Kobashi in turn and creates an opening for his tag partner.
As the time-limit threatens the possibility of another draw, both teams go for broke. Nakajima kicks out of his own finisher when KENTA lands a bridging german suplex. Kobashi lifts Nakajima into a raised position for Kobashi to hit a top-rope knee drop. Nakajima and Sasaki his another triple german suplex. Nakajima reverses a G2S into an ankle lock, which is reversed into an STF by KENTA. The pace and drama is almost overwhelming as KENTA lifts Nakajima into a tiger suplex and somehow, he still kicks out. The entirety of the home audience of Kensuke Office is willing Nakajima on as he lands a german suplex. KENTA kicks out. Another, followed by a spinning kick to the back of the head (a move entitled Death Roll), finally puts an end to the match.
A conclusion of sorts
All four members of Kensuke Office stand proud at the conclusion of the match, in front of their home-crowd. Nakajima has finally pinned KENTA, albeit not in singles competition. He continues to stare at him from across the ring, as KENTA uses the ropes to pull himself up. Kobashi holds out a hand to the victorious competitors. In very traditional fashion for Japanese pro wrestling, the feud has ended with a simple handshake, and with respect, as both sets of competitors come to recognise the spirit and competitiveness displayed by the other side. While Kobashi pats KENTA on the back to encourage him to do the same, it is the still-simmering Korakuen Hall that goads Nakajima into shaking hands with KENTA.
As one contemporary Japanese article commented, "KENTA and Nakajima always quarrel after their matches, but on this day they shook hands in honour of their brave efforts." It could have been the end but instead, it closed the door on one chapter and opened another. This fight, this struggle, was one that they inherited. And growth as a professional wrestler is about shedding the inheritance of your elders and carving out a new path.
Why else do dojo trainees grow out their shaved heads and adopt their own styles of wrestling when they graduate as full-time roster members, if not to set themselves apart and be their own people? With the end to the feud between NOAH and Kensuke Office, there was no longer a reason for the two to fight. And yet, fight, they did—because moving past what they have inherited from their mentors means learning to fight each other on their own terms. As the feud spills over into NOAH's junior division in 2009 and eventually into its heavyweight division in 2013-14, we see real anger and resentment build as each seeks to carve out their own legacy on professional wrestling.
Nakajima would himself comment backstage that in spite of his win, KENTA had spent 55-minutes in the ring: "I hope one day to close the distance and cross him again." He has not surpassed his rival yet, but he knows that it will not come from the impulsive rage of a trainee. It must come from the resolve of a professional wrestler.