One match can come to define a performer's entire career – but can also communicate the ideology of both a performer and their promotion.
We see trends within each company, whether that be recurring characters, match styles, or booking structures – each of these can come to define the entire promotion. In this series, we analyse everything that makes up a particular promotion, in a singular match.
Today we're talking about Tokyo Joshi Pro Wrestling (TJPW) and a 12-minute five-way elimination match, featuring four of the best wrestlers in the company and their most engaging characters – with each representing elements that make up Tokyo Joshi Pro. Time does not equate to spectacle or quality, and shorter matches can produce an epic nature regardless. This is not an epic, but it is an indicator of TJPW's treatment of major wrestlers.
From TJPW "Style of my Love", at the 58:59 mark, the Five-Way-Elimination Match
"The Fallen Idol" – what constitutes an idol promotion, and its silliness
TJPW is often minimised to "an idol promotion", focusing on likeable characters who aim to sell merchandise like autographed photographs and picture books while wrestling. The stigma is that wrestling comes second, marketability comes first.
In the beginning of her career, perhaps Maki Itoh epitomised this idea, beginning her wrestling journey after being fired from an idol group. This informed her "Fired Idol" character, whose focus on garnering as many fans as possible fueled her drive to achieve more in wrestling.
Even in the midst of pandemic crowds, Itoh forces full crowd participation as they clap along with her entrance. They are invested in her performance. During the match, she acts like a petulant child, sat upon the top rope goading all of her opponents until they chase her out of the ring and collectively take her out.
How you take your characteristics and attribute them to the sport-centric setting is the mark of a good wrestling mind – Itoh has that. Yes she's driven by earning fans, but that drive forces her to develop in-ring skills and go for accolades.
Since this, Itoh has improved steadily in ring, winning her second TJPW International Princess belt, a Max Heart Tag Tournament and competing internationally.
But in November 2019, she was still behind her opponents in terms of skill. She's the first face you see, she makes it all about herself during her time in the match, and she's eliminated in comedic fashion. She's in this spot because she's earmarked for great things, but at this point in time she's a fun character. It's a humorous promotion, but to succeed you need to be good in ring.
"The Ace of TJPW" – the bedrock of TJPW
Almost inarguably, Miyu Yamashita is not only the ace of TJPW, but a top-level performer in any promotion.
"The Pink Striker" has the most major titles in the promotion's history, beginning her journey as one of TJPW's first three trainees, basing her presentation on karate and her background in childhood mixed martial arts. She is presented as a threat, a win over her an achievement in itself.
Here, Yamashita's significance is laid bare: while multiple people helped take out Maki Itoh out of annoyance – here it takes the two other longest-tenured competitors working together to eliminate Yamashita out of fear. A suplex/diving dropkick combination, double tiger feint kick and a two-person roll-up combo, from two of the best in the promotion.
Miyu Yamashita is strong, stronger than most of her regular opponents. Shoko and Yuka immediately gang up on her after eliminating Maki, yet Miyu fights back into a position of power.
But she can have fun. In matches on smaller shows, not as prestigious and not for silverware, the goofy side of "The Pink Striker" comes out. When a match gets serious, she's a stone-cold killer.
"The Magical Princess" – Quirky? Or Killer?
Yuka Sakazaki is another representation of TJPW's dichotomy. To her AEW fans, she's a loveable, sympathetic character. Full of energy from entrance to moveset, she's even been Riho's punching bag.
As a company tent pole (joint most Princess of Princess (PoP) Championship reigns), Sakazaki exudes a credibility that must be overcome by younger talent. Often in matches her strikes turn stiff as her facial expressions fade away.
She's a clear representation of the respect that TJPW gives to its title holders. She enters last, a traditional sign of respect for the champion in any given promotion. Her eventual elimination from the match doesn't come by a pinfall or submission, but instead her status is protected as champion – eliminated by two competitors over the top rope (a proper old-school wrestling rule in non-battle royal elimination matches).
As a brand ambassador, Sakazaki lulls viewers in, before breaking out a streak that's kept her atop the division for years.
At one point nothing more than a rookie in gym leggings, transforming into a comedic character who would win matches with childrens magic routines, nine years later Yuka Sakazaki's morphed into one of the final bosses of TJPW.
"The Big Kaiju" – the variety of styles
Professional wrestling is full of different styles, and this is no different for the promotion that many would rather simplify to comedy. In 2023 this ignores the wide range brought to the ring by this roster.
Shoko Nakajima, with a presentation inspired by Kaiju monster battles and a wrestling style based in Lucha Libre, epitomises such variety. When she's at the top of the card, Nakajima presents thrilling highspeed contests, using that to her advantage in a company where she's one of the smallest competitors. At other times, Nakajima brings a box of plastic toys to the ring to use as weapons, battling against literal superheroes.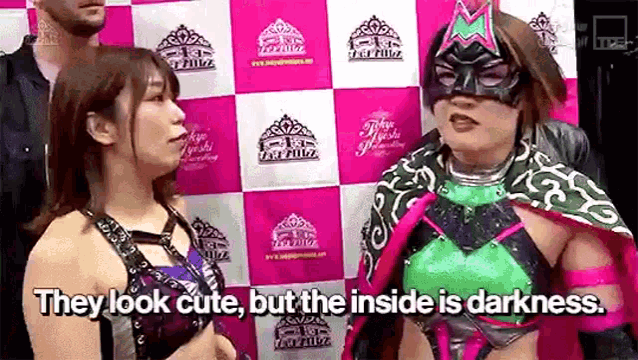 In an exchange with Sakazaki – who in most cases would be considered the speedster – Nakajima uses quickness and agility to her advantage. A running backflip out of the corner into a running dropkick to give her the advantage, quickly taken back by Yuka when she counters a rope run with a series of suplexes.
Whether it's an undead zombie, a collection of French aristocrats, badass judoka or a tiny giant monster, TJPW presents it all. In ring, the aforementioned comedy, karate, lucha libre, high flying, powerhouse strength, mixed martial arts, all live in harmony.
"The White Dragon" – TJPW's booking philosophy to building up the talent
It's really hard to get to the next stage/level of this promotion.
For Rika Tatsumi, it took her five years in TJPW before she won tag team gold, a year more than that to win singles. But in the company's history, the majority of teams hold the Princess Tag Team Championships for more than 100 days, the same for their major singles belt. People attain a spot high on the card, and they hold it for a long time.
For a wrestling company, this maintains title prestige, that those who become champions deserve to become champions and have the strength to hold it for a long time. By not hot potatoing the belt, TJPW ensures that being a champion has true meaning.
But for the fan base, this can be a slight drawback, with how long it takes new talent to be given opportunities that some feel they already deserve. It leads to a talent exodus at times, with names like Natsupoi, Marika Kobashi, MIRAI and Mina Shirakawa heading to pastures new and finding success quicker than they did in Tokyo Joshi.
However when they get behind a talent, they are given every feather for their cap. At one of the TJPW's biggest shows of the year on January 4th 2021, after six years with the company and a major win over the biggest names in the company pushing her forward, Rika Tatsumi finally became PoP Champion.
For fans of "The White Dragon", yes this was a slow rise. But it was earned, and established her as a pillar for the company before even touching singles gold.
—
At its heart, Tokyo Joshi Pro Wrestling truly cares about the competitive nature of its matches – pretty colours and funky songs might mask this for some, but the approach to match structure and presentation in their biggest matches proves their serious about professional wrestling.
Every opportunity is earned, every title has significance and every challenge its importance. To be a champion in Tokyo Joshi Pro Wrestling does not mean you are queen of the idols. It means you are a mountain to be scaled and a warrior to be dethroned.
A warrior, who when not in a title match, might also sing and dance.