The all woman's wrestling show is set to air on Saturday August 28th, during the NWA's anniversary weekend.
After her release from WWE in April of this year, Mickie James quickly hitched her wagon to the historic NWA promotion, currently owned by The Smashing Pumpkins' Billy Corgan. Appearing on the June 8th episode of the promotions POWERRR program, the two announced that as part of her partnership with the company Mickie will be producing a pay-per-view card made up of entirely female competitors, titled NWA EMPOWERRR
NWA's EMPOWERRR will be the first high profile all-female wrestling PPV since WWE Evolution in 2018, which James has since stated was "set up to fail." Repeating the event has seemingly been a major goal of hers behind the scenes since then.
Since the show's reveal, information has come to the public in drips and drabs, but Mickie's surprise return to her old haunt of IMPACT for this past Saturday's Slammiversary PPV brought with it a new update. IMPACT Wrestling's reigning KNOCKOUTS champion Deonna Purrazzo was invited to take part in the show, during her post-match celebration of a successful defence against former NWA Women's Champion Thunder Rosa. While Mickie's interruption led to a confrontation between the two, the "Hardcore Country" girl has said she will not be performing on the EMPOWERRR show, although will continue to compete in-ring more generally (including at the following evening's NWA 73rd Anniversary Show). While a Fightful Select report after Slammiversary did suggest a match between the two women was in the pipeline, they also revealed that the planned opponent for The Virtuosa on August 28th is currently set to be the NWA's Melina.
On top of a KNOCKOUTS title appearance (whether or not it'll be defended is still to be seen) recently it was confirmed during a St. Louis press conference that the NWA Women's Title will be defended on the show. Also announced during the event was the NWA Women's Invitational Cup, an annual tournament which will result in a title shot for the winner, during the 73rd Anniversary Show. Tootie Lynn, an independent wrestler from the St. Louis area, was the first entrant announced. Whoever is the champion by that weekend will certainly be put through their paces. Current champion Kamille won the belt from AEW's Serena Deeb two days before Mickie James announced the EMPOWERRR event, and has been one of the main faces for promotional material thus far.
In a June 22nd Instagram live, Mickie encouraged more independent female talent to get in touch about taking part in the show. I would expect that many of those selected through this process would be taking part in the aforementioned tournament. But this stance is also indicative of the direction that James wants to take the NWA Women's division. As part of her GAW TV podcast, she focused on her desire for this new venture to have an impact on the industry at large: "I have an opportunity to build something fresh, new, and exciting. A place where – when you were in the Indies, all you needed was that one chance or that one person who believed in you".
In that same podcast episode, she made reference to Deonna Purrazzo as someone "killing it". If this is an indication of some of the many "favours" she's mentioned calling in for this event, then her naming of both Britt Baker and Maria Kanellis in the same breath suggests that AEW and ROH's respective divisions are worth keeping an eye on.
The NWA will also bring back their previously deactivated NWA Women's Tag Team Titles. Yet again with Mickie James spearheading the move in the public eye, the company is looking for independent female tag teams to compete to be the first champions of the division since 1983.
With regards to the marketing for the show, much of the media has been dominated by both Mickie James and Kamille, but also feature recent acquisitions Kylie Rae and Jennacide. I would expect both to be present on the show, while James made sure to highlight that any member of the current NWA Women's roster could have a place on the show if they were interested.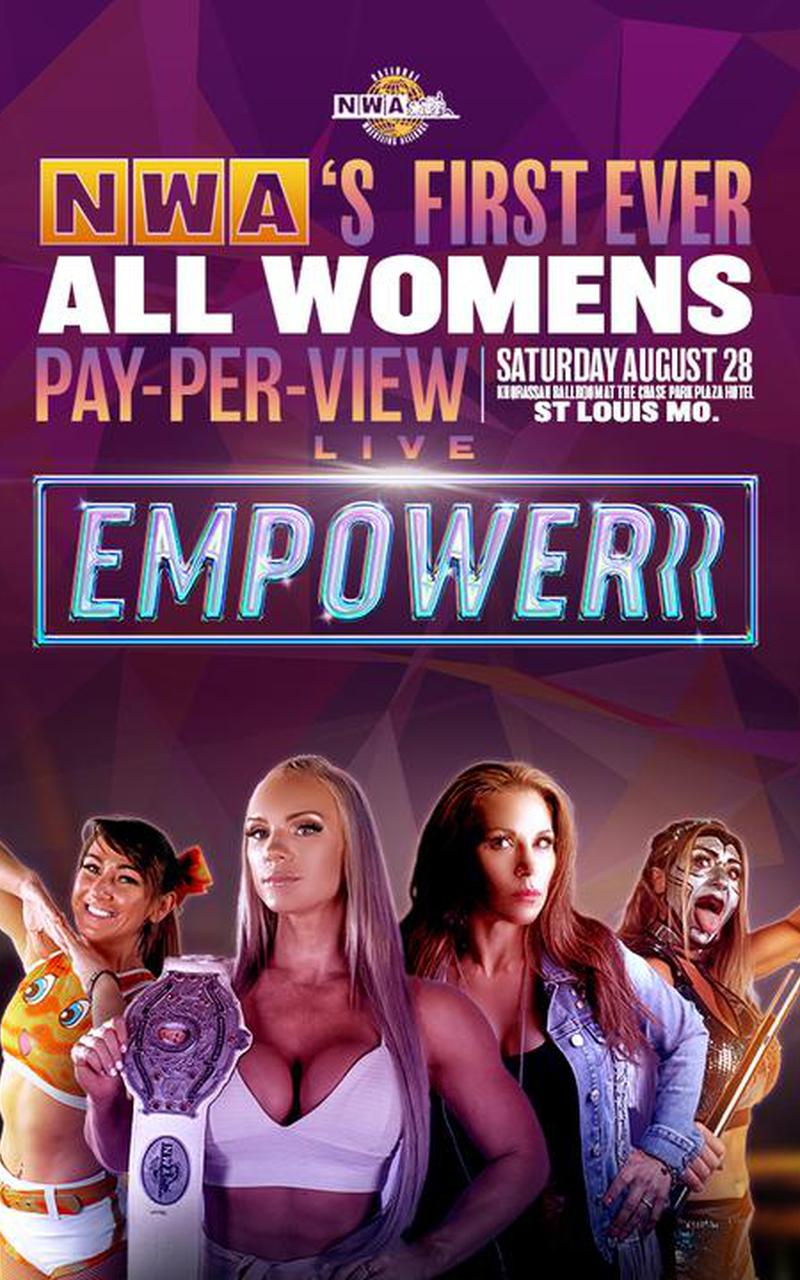 I personally am really looking forward to August 28th. Mickie James has long been heralded as a major figurehead in the charge towards even opportunity for women within the business of wrestling. Her words with regards to the lack of access that women have had to the boardrooms of wrestling companies, along with her always high standard in-ring puts her on a pedestal for me alongside many of her mid-2000's counterparts, such as Victoria, Awesome Kong, and Gail Kim (the latter it has since been revealed is also helping James with organising the EMPOWERRR event backstage, alongside Medusa, LuFisto and Brent Tarring, who will also provide commentary.)
Let us know on Twitter @NEARFALLSmedia what your thoughts are of the upcoming NWA EMPOWERRR Event on August 28th.