With 2021 being one of wrestling's most historic, 2022 is already shaping up to reflect those same seismic shifts. Lost in the shuffle of Hall of Fame returns, crossovers and company connections is the rise of a new federation to keep an eye on: Deadlock Pro Wrestling. (No, it's not an eFed).
With their first set of tapings now freely available on YouTube, the company started by wrestling's most successful independent podcasters brings their first major event: DPW You Already Know. Live from the Raleigh Convention Centre, NC, January 8th, you can get tickets here, or if you're an international fan like myself, you can subscribe to the DPW tier of the Deadlock Patreon to get the VOD, or through their new on-demand service.
So far every DPW show has been filled with the group's usual brand of fun on commentary, matched by the talent taking every opportunity to show wrestlings goofy side. The in-ring competition has also been top tier, featuring the likes of IMPACT Wrestling's Rosemary, MLW's Calvin Tankman and AEW's Luther, as well as some big names in independent wrestling such as BoJack.
On top of the matches aired on YouTube and those built for You Already Know, DPW has been responsible for the in-person debut of Chris Danger, whose stable NDA has demanded they make an appearance at this special event.
Calvin Tankman vs Blake Christian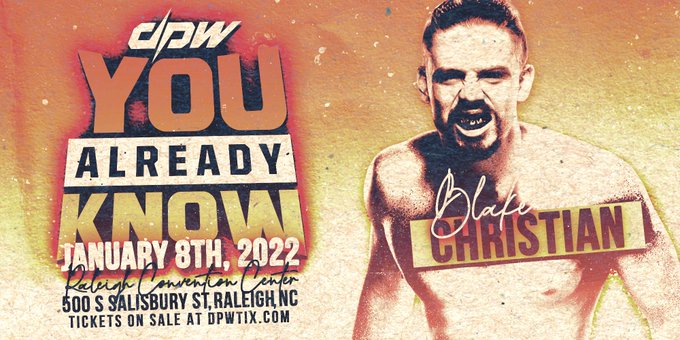 Heavyweight Hustle Calvin Tankman has already competed twice for Deadlock Pro – making it to the second round of the Title Eliminator Tournament before losing to Andrew Everett. Said loss largely came as a result of Tankman's focus more on hurting his opponent than going for the win. Now, he'll have some frustration to let go of.
While Tankman was my personal pick to be inaugural DPW World Champion, I'll settle for this barn-burner with one of the independent circuits' best cruiserweights. Formerly known as WWE's Trey Baxter, #AllHeart Blake Christian will make his Deadlock Pro Wrestling debut at You Already Know.
The athletic highflyer is sure to turn heads as he did when he rung in the new year with an incredible Doomsday Device reversal in GCW.
Cancelled – Frightmare vs Gringo Loco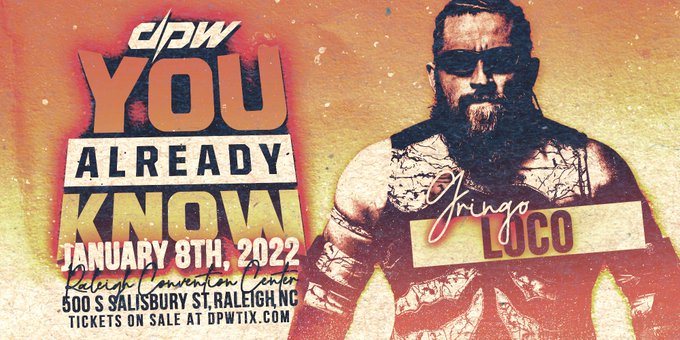 While Gringo Loco is still set to appear at press time, his opponent Frightmare has been forced to pull out of the event, following a positive Covid diagnosis.
The 22-year veteran is about to bring even more high-energy maneuvers to DPW's black canvas – "The Based God" already fits pretty nicely with the Deadlock furniture (even if that furniture is a rental).
DPW has said fans should await further announcements.
DPW Battle Royal
The DPW Battle Royal works the same as the traditional Royal Rumble – two wrestlers start, another enters every 90-seconds.
With eight performers taking part, including some making their return to DPW (Josh Fuller, Tenshi X, Skyler Mack) this matchup is a great way to lay your eyes on performers that will be part of many DPW storylines in the future – or who could pop up anywhere down the line. A lot of talented prospects.
Aaron Cox vs Mikey Banker (w/ Josh Fuller)
As The Delinquents, Banker and Fuller have been all over these first editions of DPW Fire. Title Eliminator matches, tag bouts where they're jumped before the bell rings, battle royals – they've seen it all.
Mostly however, Fuller has been the one involved in in-ring action. At You Already Know, now it's Banker's turn, taking on Aaron Cox.
Cox, like many that will be regular fixtures of DPW, is part of the burgeoning North Carolina independent circuit – a mainstay of the Premier Wrestling Federation. His lone DPW appearance so far was as the third elimination in this weeks DPW Battle Royal.
KZT vs Raychell Rose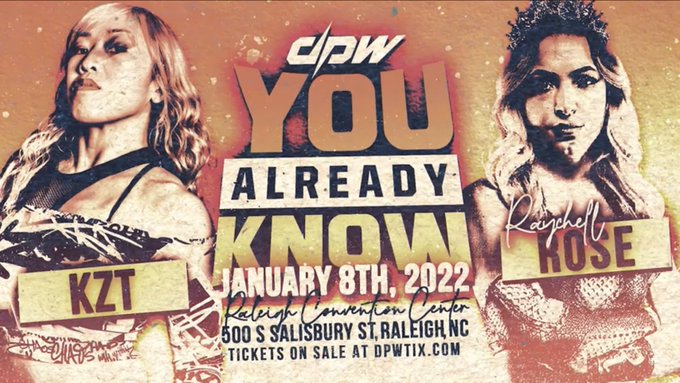 The Queen, Raychell Rose, felt slighted that the Jacksonville crowd didn't respect her ability – or her future on the throne of DPW.
To prove her ability, she "beat" KZT in 30-seconds (albeit, the match didn't actually start…). The rematch has been made between the two for You Already Know, and this time KZT might actually get to hear the bell ring.
This would be a tremendous advantage, as KZT is a jiu-jitsu black belt and former trainee of MMA fighter/wrestler Josh Barnett, competing at his Bloodsport 6 event. Also known as Exodus for Women of Wrestling, it seems the initial blindside is something she forgot about until this week – perfect timing to get angry in time for You Already Know.
Diego Hill vs Donnie Ray vs Lucky Ali
A continuation from this weeks DPW Fire, after their eliminations Ray and Ali ended up in an argument outside of the ring – following Ali going straight for The Meltman upon entering the battle royal, and Ray helping with Ali's elimination at the hands of Kidd Bandit.
From my perspective, Diego Hills involvement is odd – he wasn't involved in this spat at ringside, but did compete in the DPW Title Eliminator Tournament, losing in round one to Kevin Ku. Any of the three could take the win. Whatever the outcome, I sense it will further this frustration between Donnie Ray and Lucky Ali.
Kidd Bandit vs Ho Ho Lun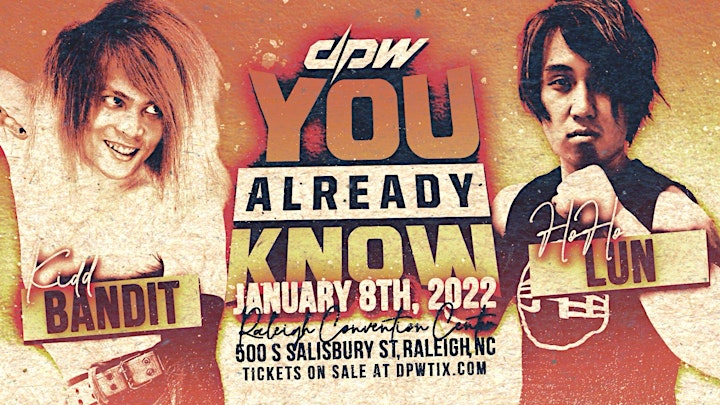 Kidd Bandit holds the distinction of competing in DPW's first-ever match. Sadly, they also hold the distinction of losing that first match. and being the final person eliminated by DPW's original hog dipper Luther, in the inaugural DPW Battle Royal. Post-match, they were given the opportunity to thank the crowd and got a Kidd Bandit chant from Luther.
The Protagonist of Professional Wrestling has an opportunity to gain some momentum as a potential company stalwart (referred to as "DPW's Kidd Bandit" on the official card rundown). While Bandit is quickly garnering an online following, they're still in their rookie year as a professional wrestler since graduating from The Nightmare Factory.
Their opponent, Ho Ho Lun, is the current Manila Wrestling Federation champion and a regular of Dragon Gate in Japan. He has competed across Asia since debuting in 2007, and also had a short run on WWE's 205 Live brand, as well as making it to the second round of the inaugural Cruiserweight Classic.
Lun is in the US for a short period and has already competed in matches for GCW, AEW and Bayou Independent Wrestling (BIW). With 15 years of experience, he is the definitive veteran going into this matchup with Kidd Bandit at You Already Know.
Yuu vs Ryo Mizunami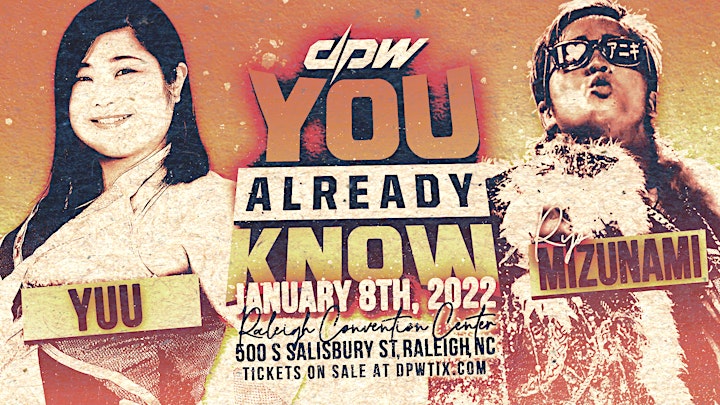 The boys behind DPW have been touting this You Already Know matchup as a first time ever (on American soil).
Ryo Mizunami has increased her notoriety in North America recently with appearances for AEW – most notably winning the Women's Title Eliminator Tournament, and challenging champion Hikaru Shida at last years Revolution PPV. While she recently lost her SEAdLINNNG Beyond The Sea championship, Mizunami is a veteran with over 18-years of experience and a hard-hitting style which allows her to get the win over anyone.
Yuu's early career was defined by being something different – a legitimate judo expert, rising quickly to the top of Tokyo Joshi Pro Wrestling. Since leaving the company, she's had additional training in Germany's wXw and had a tour of the UK before returning to the Japanese independent scene, where she is now one half of the Sendai Girls Tag Team Champions.
Supposedly, said German training has made her chops deadly – so look forward to a good old-fashioned chop-off.
CANCELLED – Hardcore Match: Alex Colon vs Colby Corino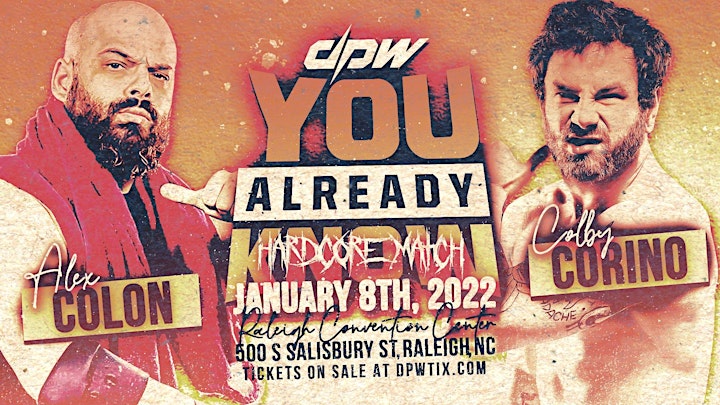 Initially scheduled as DPW's first-ever Hardcore match, this match has now been cancelled due to COVID concerns, with Alex Colon forced to pull out.
DPW has said fans should await further announcements.
DPW World Title Match: Andrew Everette vs BoJack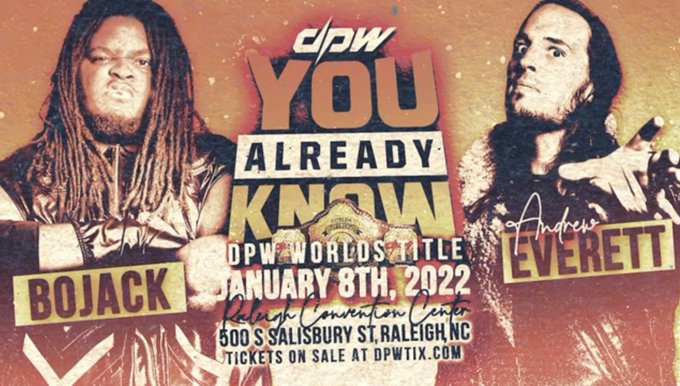 "The 7 foot 4 Giant" Andrew Everett had a tough run through the DPW Title Eliminator Tournament. Starting his run against IMPACT Wrestling's demon assassin Rosemary, Everette was only able to overcome her offence (and hidden weapons) by hitting his signature shooting star press from the middle rope.
In match two, Everette took on Calvin Tankman, in a match which the latter took control of for the most part. But with Tankman focused on inflicting pain rather than going for the win, Andrew The Giant eventually swung momentum his own way – yet again hitting the middle-rope shooting star press for the win.
By contrast, North Carolina's own, The Dreadlock (or Deadlock) Demolition Machine BoJack had a decidedly easier run to these finals at You Already Know. His initial matchup was a seven-minute extended squash against the much smaller Josh Fuller.
In his semi-final bout, BoJack took on Violence is Forever representative Kevin Ku. While the match was full of big strikes, ending on a brutal BoJack bomb, it went just over six minutes. Post-match, Ku said: "I hope everyone in your hometown realises how special you are, and how little you're going to be here soon."
In comparison, Everette spent twice as long in-ring to make it to You Already Know and had to beat opponents with greater name value, but it appears by all accounts (and his trophy cabinet) that BoJack is destined for great things in wrestling.
This first-ever title match is a battle of the titans – and both have a legitimate chance to be the mast this brand new company hangs their flag on.