British wrestling does not exist in the mainstream. I am aware British promotions exist but they're hidden away on streaming services which are not the most accessible option for some wrestling fans, particularly casuals, for various reasons. In addition to this, various BritWres companies were implicated during the Speaking Out movement making the idea of watching a British-owned promotion much more unappealing. Being British, my only exposure to British wrestlers are the ones who appear in the various mainstream American promotions or the short-lived World of Sport relaunch that aired on ITV in 2018, which has been remained mostly silent apart from a tour in 2019. There is also NXT UK but a WWE produced show isn't always for everyone.
Being British, I want to see my countrymen to succeed when I do see them on screen so as soon as I found out someone is British, I often blindly support them. However, it can be fair to say British wrestlers never seem to reach their potential in the mainstream wrestling companies, at least if we look to WWE as an example. If you look anywhere, you'll be sure to find content trying to decipher why British stars like Wade Barrett or Neville never reached their full potential within the company.
Drew McIntyre's name could have also been included but after proving his worth in TNA, it's probably fair to say WWE recognised their misuse and have rectified that now. I can't think as to why British wrestlers don't receive the pushes they deserve over American talent, provided they are equal to and in some cases more talented than their American counterparts.
If I had to speculate, perhaps British wrestlers aren't as big of a draw as their American counterparts. Wrestling companies prioritise whatever will attract viewers so if the British wrestlers aren't drawing enough, they aren't going to be featured as prominently. Another reason I'd bring up is that most companies have unnecessarily large rosters which only results in talented individuals being underutilised.
Much of the discourse surrounding AEW that I've seen at present revolves around their bloated roster so in this article, I'm going to look at both PAC and Kip Sabian's first year in AEW to discuss whether it appears AEW can defy the trend set by WWE. The company promote themselves as the alternative therefore you would expect them to do so. Some may argue it is too early to tell whether or not talent is being used correctly but looking at their early career trajectories within the company, we can tell whether they are in the correct position and if not, are in at least a salvageable one.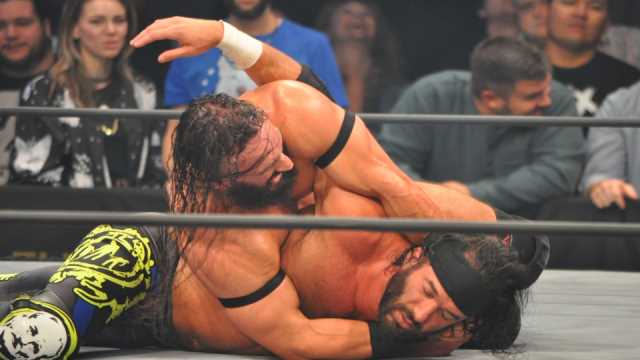 Pac
Pac has already had one frustrating run in mainstream wrestling, as the aforementioned Neville in WWE. After being signed to AEW, despite the initial difficulties that cancelled his debut Double or Nothing match, Pac appeared to be beginning to receive the run we all knew he was capable of by the time Dynamite had begun airing. He held wins over Kenny Omega and Adam Page as well as a time limit draw with Jon Moxley. This demonstrated that he was a main event calibre star.
Even after a loss to Omega in late November, Pac didn't lose his elevated position. He pursued Kenny desperately for a rubber match, with an attack of Michael Nakazawa and hinting at a possible one on, in Pac's words, "lovely little Riho". It was this that finally persuaded the now tag team champion to face him. His pursuit was obsessive, delivering a string of excellent promos that showcased his talent on the mic as well as the Bastard character.
On the other hand, early 2020 made it clear that Pac wasn't going to be the main eventer we wanted him to be, or at least not yet. Outside of how great the feud with Kenny was, it was overshadowed by the emerging storyline between Omega and Hangman Page that was occurring concurrently. On the Jericho Cruise, Pac lost to Jon Moxley in a number one contender's match for the AEW World Championship and when the Iron Man Match with Omega finally happened, he ended up losing that too after extra time was added. Pac's loss seemed unnecessary; although Omega needed some momentum going into Revolution, it made all of Pac's efforts leading up to the match seem completely wasted.
The match could have easily remained a draw, protecting both men's records. Kenny having reduced momentum before Revolution would have worked to intensify the existing tension between him and Hangman Page, as Page already viewed himself as the alpha of the team having scored the pinfall when they had won the titles. Although the Iron Man match happened so early in the year, it was and still is a MOTY contender to me. It was exhilarating to watch and incredibly physical. However, amongst discourse about AEW's greatest matches so far it always seems to be omitted. It's quite easy to look and see why this match isn't getting the credit it deserves with Revolution happening that same week. Both Pac and Kenny had highly regarded matches with Orange Cassidy and The Young Bucks respectively.
At the time, the decision to have Orange Cassidy face Pac seemed almost like an insult to Pac. Cassidy had yet to have a singles match in AEW and unless you were aware of his work before AEW, which I wasn't at that point, it would be easy to write him off as a joke. Of course, in the match with Pac and the months following Orange has demonstrated how entertaining he can be and has quickly become one of my favourite wrestlers in the company.
Following this bout, Pac formed the Death Triangle alongside the Lucha Brothers. The justification for this alliance is that the trio felt underappreciated in the company, presumably teaming up to further their careers together. Unfortunately, the pandemic deprived us of seeing where this alliance was going to go with, at one time, all three members being unable to travel. Idealistically, this trio could have terrorized the current champions but this didn't seem to be the route AEW were pursuing based on the last few appearances of the trio together, with the company opting for a continuation of the feud with the Best Friends and Orange Cassidy. It was also revealed that the original plan for Double or Nothing was to have champion Jon Moxley face MJF further emphasising that Pac wasn't viewed as championship material, at least not yet.
Pac's final Dynamite appearance came in May just before Double or Nothing with a warning for the Best Friends and Orange Cassidy. It appeared as if he would assume the same role he had in the months prior, tormenting the trio with promos as he had with Kenny Omega, leaving them vulnerable to attack by the Lucha Bros. Nothing was seen from Pac after this, possibly due to Rey Fenix getting injured and Pentagon Jr still being unable to travel at that time.
However, the Lucha Brothers have since returned to action yet their association with Pac is no longer mentioned, with the tag team now aligning themselves with the present Butcher and Blade. Although Pac is stuck in the UK because of travel issues, it would have been nice if he could have still delivered pre-taped promos on the behalf of his allies. His May appearance appears to be considered insignificant by AEW with his promo not being featured on the show's highlights on their Youtube channel.
Kip Sabian
Unlike Pac, throughout Kip Sabian's early AEW run, most can agree that he has been booked correctly. In the men's division, he occupies the midcard with most of his victories coming on AEW Dark as well as serving as the valet for Penelope Ford. Valet being the word choice here after his "I'm the eye candy" sign and the needy boyfriend character introduced before Penelope's match in the Deadly Draw. As a result of the pandemic, Kip gained extra exposure on Dynamite that he probably would not have received before and had tremendous momentum as part of the entertaining Superbad Squad, which was unfortunately halted for factors outside of Kip's control.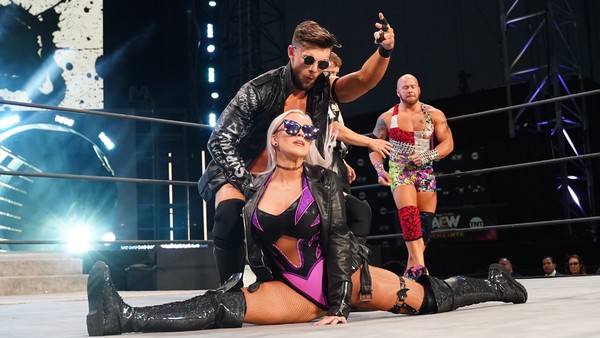 Although Kip isn't in a bad role with Penelope if AEW would still like the use him within any of the men's divisions they probably need to think about giving him a role soon before he becomes lost amongst the bloated roster. With the new signings that have been made, Kip suddenly faces more competition for exposure. From my perspective, Kip works most believably as part of a tag team with a partner who is larger and more physical than him, with Kip acting as the exceedingly cocky mouthpiece of the duo. He demonstrated this as part of AlphaBad in World of Sport. Although the Superbad Squad lacked the promo time, Kip would make time during matches and talk to the camera as he was waiting in the corner for the tag. This man exudes arrogance.
Despite AEW's bloated roster, it's hard to pick a feasible partner for him. The only real option that presents itself could be Wardlow; he's more powerful than Kip and would dominate opponents leaving the arrogant Kip to take the pin. However, this is unlikely. AEW has already planted the seeds for Wardlow and MJF splitting so there's no reason as to why he would move to another cocky, arrogant heel as a replacement. He's more likely to have a singles run instead.
At the very least, if AEW don't opt for the aforementioned tag team route, they could utilise Kip's mic skills to help further Penelope Ford.
Conclusion
Overall it can hard to analyse how the first year for each wrestler may have turned out without the current pandemic but both wrestlers, fortunately, haven't reached the point where their careers have become unsalvageable. It can be argued that the pandemic benefited Kip Sabian. On the other hand, Pac's early career has been a mixed bag. He's been successful but he has always been overshadowed by someone else being more successful, as detailed above. It seems that AEW recognise this though, based on the story surrounding Death Triangle's alliance. Hopefully, if Pac returns he will be in the elevated position that he deserves. He is an incredible heel and his promos are always captivating so seeing him with the World Championship would be incredibly rewarding as a fan. We will have to wait and see. Patience is always key.