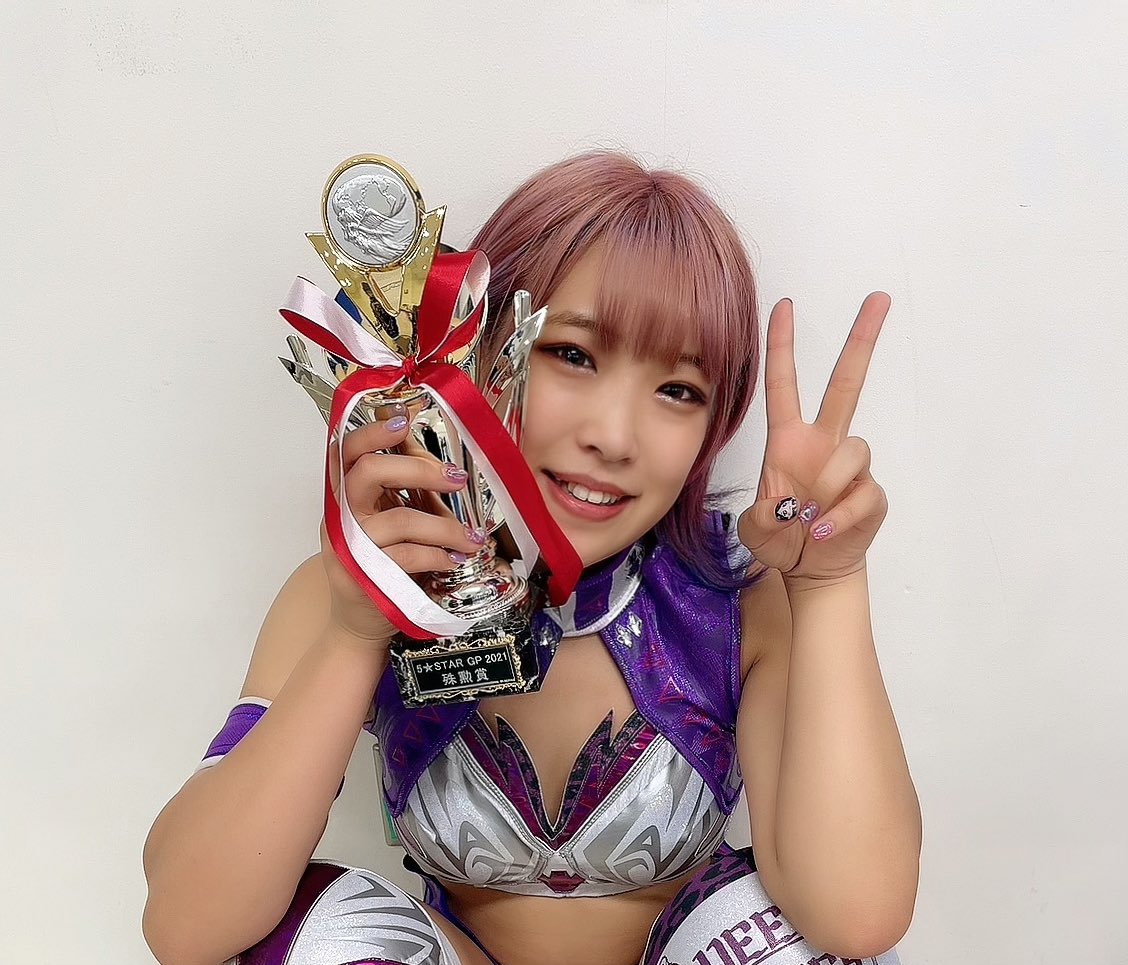 STARDOM's 5 STAR Grand Prix is over and it was an eventful tournament to say the least. Two incredibly stacked blocks and a LOT of amazing matches over the course of almost 2 months and in the end, Syuri beat Momo Watanabe in the finals to cap it all off. While Syuri had an incredible tournament run along with the likes of Utami Hayashishita, Takumi Iroha, Momo Watanabe, Tam Nakano, Saya Kamitani and more, there was one wrestler who had been dealt a less then favourable hand compared to others and yet still managed to come out as my personal MVP…and that's AZM.
THE 5 STAR
AZM's 5 STAR run for the most part was very unfortunate. Losing to Unagi on the first day and only getting a string of wins right at the end of the tournament made fans a little upset on how she was positioned in the tournament. That being said, AZM made every single minute of her matches count. Only 2 of her 5 STAR matches went over 10 minutes (the one with Tam being my least favourite match she had) and the majority of them were 8 minutes at most. Yet every single time, she had a banger with whoever she was against. Despite losing a lot early on in the tournament, she still managed to make herself feel like a big deal. She lost to Unagi Sayaka in her first match and still made a win against Takumi Iroha seem believable later on in the tournament. Not many people could pull that off.
Matches with Maika, Utami, Saya, Konami and Takumi all fell under the 9 minute mark and yet managed to stand out from the rest. She doesn't even need a million different moves to make her matches feel special because everything she does looks so crisp and brutal looking (including the best double stomp in wrestling) so whenever she does something new, it always gets a pop from the crowd (look at her leg-trap german, double stomp to the floor and Canadian Destroyer). AND she's great at selling! It's never an 8 minute spot-fest where she features in 90% of the offence and conveniently loses at the end. She plays up to her speed and agility while also making everything her opponent does look that much more brutal. Believably winning aganst almost anyone in the company (including Takumi and 5 STAR winner Syuri) while also believably losing to anyone in a short space of time (Unagi, Maika and Saya) is an impressive aura to hold.
PRE-5 STAR 2021
The short style of matches that AZM has perfected didn't start in the 5 STAR either. This year alone, only THREE of her matches have gone over 20 minutes (all of them being tag matches) and she's not often in a big feature PPV match. Syuri and Utami get 40 minutes to have great matches in main events but AZM has just as good/even better ones in a fifth of that time.
STARDOM mostly run tag matches in their schedules and most of them follow a similar sort of formula. Everyone gets a chance to shine until the lowest member on the card typically takes the pin. In a 15 minute tag match, AZM might only get 5 minutes of in-ring time but she manages to make every second matter. Whether it's her amazing transitions into submissions, high speed starts to matches or her amazing double stomp, she's always the highlight of her team. And most importantly, it never feels forced or un-natural. The way her matches are structured makes it feel like she's constantly one-upping her opponent until she makes a mistake and pays for it. The fact that she's one of the youngest wrestlers on the roster makes for a great dynamic when going up against more experienced wrestlers such as Syuri or Tam. This dynamic can change when going up against rookies too as she has 7 years of experience behind her (yes, a 7 year vet at 18 years old…)
CONCLUSION
At 18 years old, AZM is one of the best STARDOM wrestlers going right now and doesn't get recognised as such because the best wrestler discussion is usually those who have 20+ minute epics in PPV main events. I can guarantee AZM could work those matches just as well but something about a sub-10 minute match, especially during the year of ridiculously long matches in front of restricted crowds (looking at you NJPW!) is just so much more appealing. A 30 minute match is very hard to pay attention to whereas an 8 minute sprint can amaze you and leave you wanting more. And for me, AZM is the absolute best at doing that.