At this time of year, there are usually hundreds of thousands of wrestling fans globally, making the pilgrimage to the site of that years WWE WrestleMania. The final event is usually the headline, but the week leading up to "The Granddaddy of Them All" is usually equally filled with anticipation. Whether it be for younger fans in the city, excited for the many different family-orientated events put on by The Fed, or older wrestling aficionados, looking to take in one of the gazzilion different alternative wrestling shows piggybacking on the influx of fans.
While last years Mania week was an expectantly small affair, this year it appears the floodgates have opened ever more in the state of Florida (and the U.S. as a whole) and now there is wrestling happening every night of the week. In terms of weekly broadcasts alone, not accounting for WWE, this upcoming week will see shows from MLW, NWA, IMPACT and AEW in North America alone. Around Tampa itself, there are also a number of GCW events going on, including the ever-popular beacons of inclusive action "Effy's Big Gay Brunch" and "For The Culture".
While I don't have space here to highlight everything that's happening this week, I did think it was important to put some upcoming fixtures into the minds of the fans, since there's every possibility that something will be missed in the shuffle. I acknowledge I've missed quite a lot from this list, particularly since I've included a lot of matches from WWE themselves in here. I'm being honest, I don't want to miss them. I highly recommend that you check out the upcoming events section of Cagematch.net, and see if any of the myriad of events tickle your fancy. Mania week is the perfect time to be introduced to some new wrestling talent.
Jurassic Express vs Bear Country Presented by Godzilla vs Kong (AEW Dynamite) – 7th of April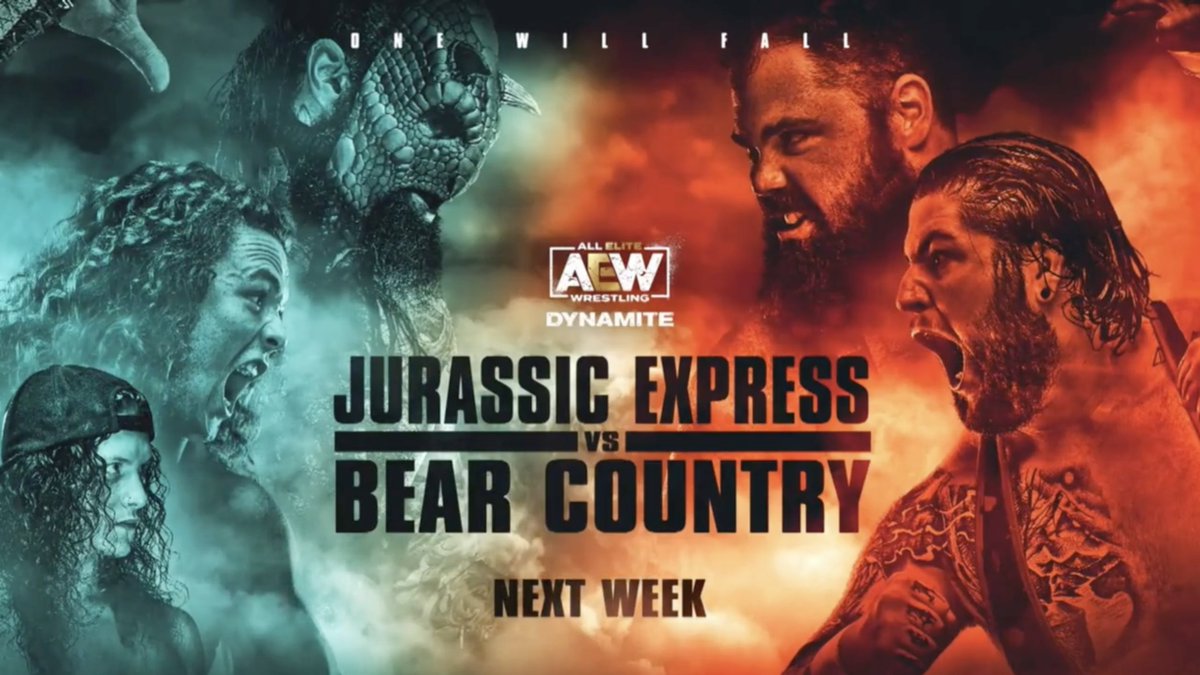 An incredibly selfish pick here, but that is 100% what happens when you talk about the things you're "looking forward to".
Bear Country have been appearing on AEW programming in a limited capacity since the beginning of the year, and have shown some interesting tag team strategies, that matches their appropriately bear-like frames. (Basically, squash em.)
I love Jurassic Express – Luchasaurus and Jungle Boy's individual performances in the Double or Nothing 2019 Casino Battle Royal went a long way to making me an AEW fan. Their (television) repackage as a tag team, featuring their *cough**cough* heater, Marko Stunt is just charmingly entertaining in its goofiness. They've explained before their gimmick is for kids. I guess I'm just a big kid then.
And what big kid doesn't want to see a hypothetical battle between two massive monsters!? Certainly not I, hence why I fully endorse this massive cash grab match between Jurassic Express and Bear Country. Why is it a cash grab you ask? Well, because this match is officially sponsored by Godzilla vs Kong.
Yep. Now you're excited.
Io Shirai vs Raquel Gonzalez for the NXT Women's Championship (NXT: Stand & Deliver (Night 1)) – 7th of April
I have not watched enough Io Shirai, but from what I have seen, I understand the hype. She's someone capable of being a grappling badass, or live up to her moniker of "Genius of the Sky". She's also a total of 5 feet and 1 inch.
I have seen absolutely nothing of Raquel Gonzalez. That being said, 99% of what I've been told is that this woman is a monster, and looks set to be an appropriate powerhouse champion of the future. She's a whole 6 feet and 1 inch.
No, height and weight is not everything in professional wrestling. I personally think Hornswoggle would beat the crap out of me. But height and weight discrepancies can tell a story. In the run-up to this contest, there's been a lot of brawling between the two competitors, but I still have a few pauses in assuming that's going to be the final products be-all and end-all.
Raquel has one matches using her superior size and strength, so it would be easy to assume she wipes the floor with Shirai. But perhaps a more interesting story will be Io's veteran instincts getting her the win, providing an education for Gonzalez about what one truly needs to become a champion. Of course, if it's a match built around impressive power moves, intellectual counters and hope spots, that's usually a pretty good recipe for a matchup.
Lio Rush vs Lee Moriarty (GCW For the Culture 2021) – 8th of April
As part of streaming for my work on a Wednesday evening, I started a short-lived series where I would watch some freely available YouTube matches of up and coming independent talent. Sadly, the world of university life got in my way.
In the three weeks, I was able to run this series however, Lee Moriarty and his Tiger Style was a standout. Even after I'd watched many of his matches, I found myself seeking out pairing between him and whoever I was looking at that week. The combination of flips, kicks and a personality that developed over time intrigued me. His is a name I look for often when checking out recommended independent matches.
My time away from wrestling in the past has meant I've missed much of Lio Rush's time. Much of what I've heard from him revolves around his mic abilities. Both the ability to talk himself up, and to use his voice as a promotional tool for others (mainly HIS MAN Bobby Lashley), are held in high regard.
Recently, the same can be said for his in-ring work. Since leaving WWE his journey has seen entry into two separate NJPW tournaments, uniting two separate cruiserweight championships between MLW and AAA, while also portraying Spider-Man for the latter. Sorry, Arcano.
Simply looking at each of their highlight reels is enough to inspire the mind.
Tyler Bate vs Noam Dar (NXT UK Prelude) – 8th of April
I wanted to include something from the WWE NXT UK Prelude event on this list, mostly because even WWE has forgotten about it.
Due to headliner WALTER also performing at Stand and Deliver (this Prelude show was pre-taped about a month ago), much of the company's focus has been on promoting that matchup with Tommasso Ciampa, over WALTER's impending title match with Rampage Brown. Much of the rest of the card seems to be an afterthought, with the most recent update online suggesting only three matches booked. Of the three, this Heritage Cup number one contenders match peaks my interest the most.
It's been five years since Tyler Bate was not only crowned the inaugural NXT UK Champion but shortlisted by some as a future best in the world candidate. While he has yet to live up to that potential on a world stage, a combination of COVID-19 lockdown restrictions and injury over the past years can be blamed at least in part for limiting his supernova like shine.
Speaking of supernovas, Noam Dar. That's it. That's the segway.
The Scottish Supernova has also been out of action for some time, last appearing in the finals of The Heritage Cup tournament in November of last year. Incidentally, last year was also my first live wrestling experience in my adult life, and it just so happened to feature Noam Dar in the main event of ICW: Square Go 2020. While the match itself does not stay in my mind (I have a brain like a sieve), Noam always does, especially since I have a tenuous link as a friend of one of his former training partners. For me, he's one of those wrestlers whose big matches I will seek out because I want to see him succeed.
I mean, the only other time I watched NXT UK was the first couple of shows, where Pete Dunne would just break Noam's pinkies on the regular. I want to see the boy lift those pinkies proudly!
Only think that'll make this match better is if it's a hair vs hair match. In which neither of them wins. Sorry boys.
Sasha Banks vs Bianca Belair for the SmackDown Women's Championship (WrestleMania 37 (Night 1)) – 10th of April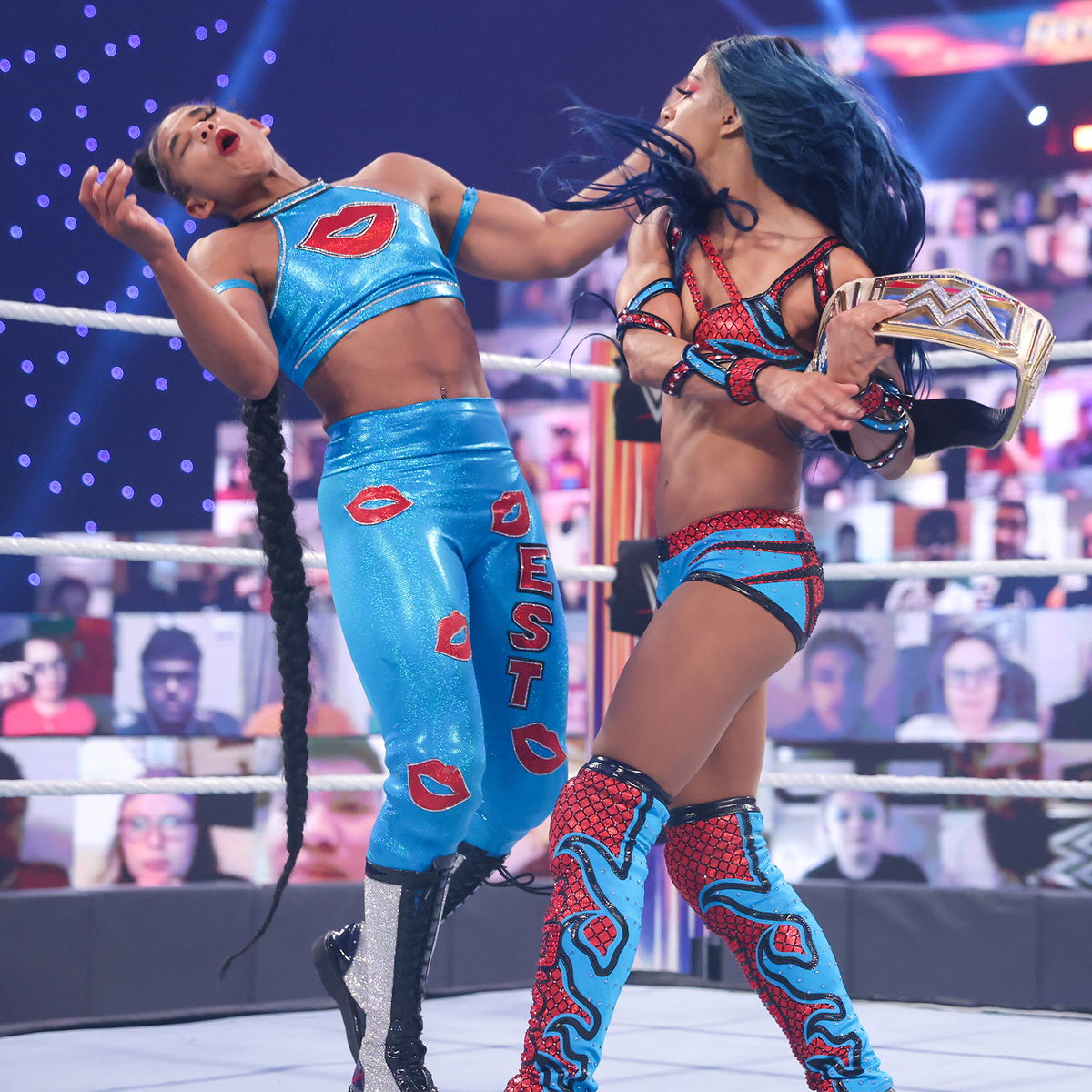 A common expression surrounding modern day WWE: "Creative is bad, so television is bad. In ring talent is some of the best in the world, so the PPV's usually deliver."
I think this ideology perfectly encapsulates how I and many others have felt about the build-up to this SmackDown Women's Title match. An initial pairing as allies built on mutual respect and admiration turned into disrespect after repeatedly failing to win the WWE Women's Tag Team Titles.
The story should have been simple, and thankfully now it has turned that way. Bianca Belair claims to be the best at everything – "the EST of NXT." While she may have won the Royal Rumble, otherwise her time thus far on the main roster has been anything but critically acclaimed. Sasha Banks makes an accurate kayfabe statement. How can you be the best, if you're not holding the gold?
It should've been this simple from the outset. We got there in the end. Who is the best wrestler on WWE's blue brand?
Parrow's Twink Hunter Tag Team Gauntlet Match: The End vs ??? (GCW Effy's Big Gay Brunch) – 10th of April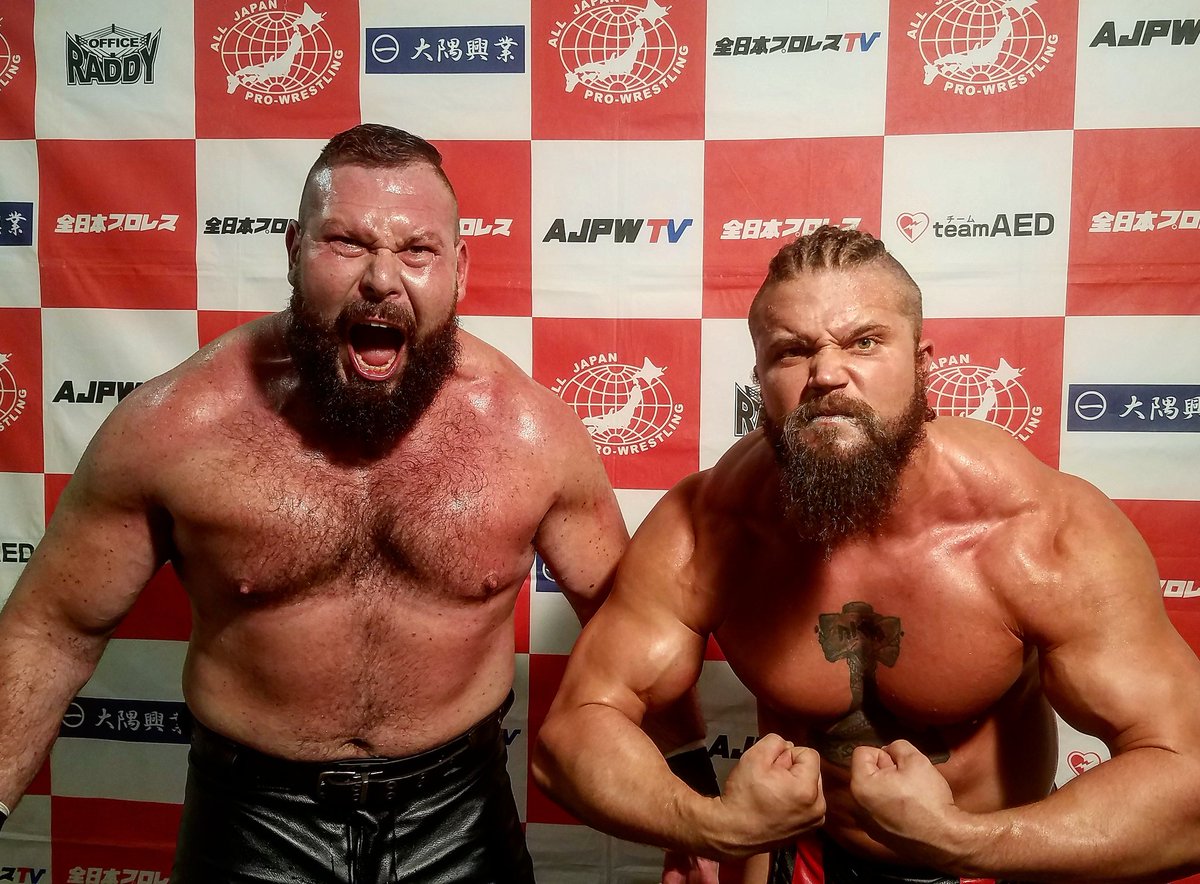 Re-read the name of this match. Do I need to add anything to that for you to be intrigued?
This is a hard match for me to preview, as much of my exposure to the end has been reading about Parrow's journey through the wrestling industry as an openly gay man. That, and seeing images of he and The End tag team partner Odinson, responding with "Whoa!" These are two very large men, and given the title of this match, I can assume their opponents will not be. There are going to be bodies flying. I for one think it's a perfect addition to this week's festivities.
Randy Orton vs The Fiend (WrestleMania 37 (Night 2)) – 11th of April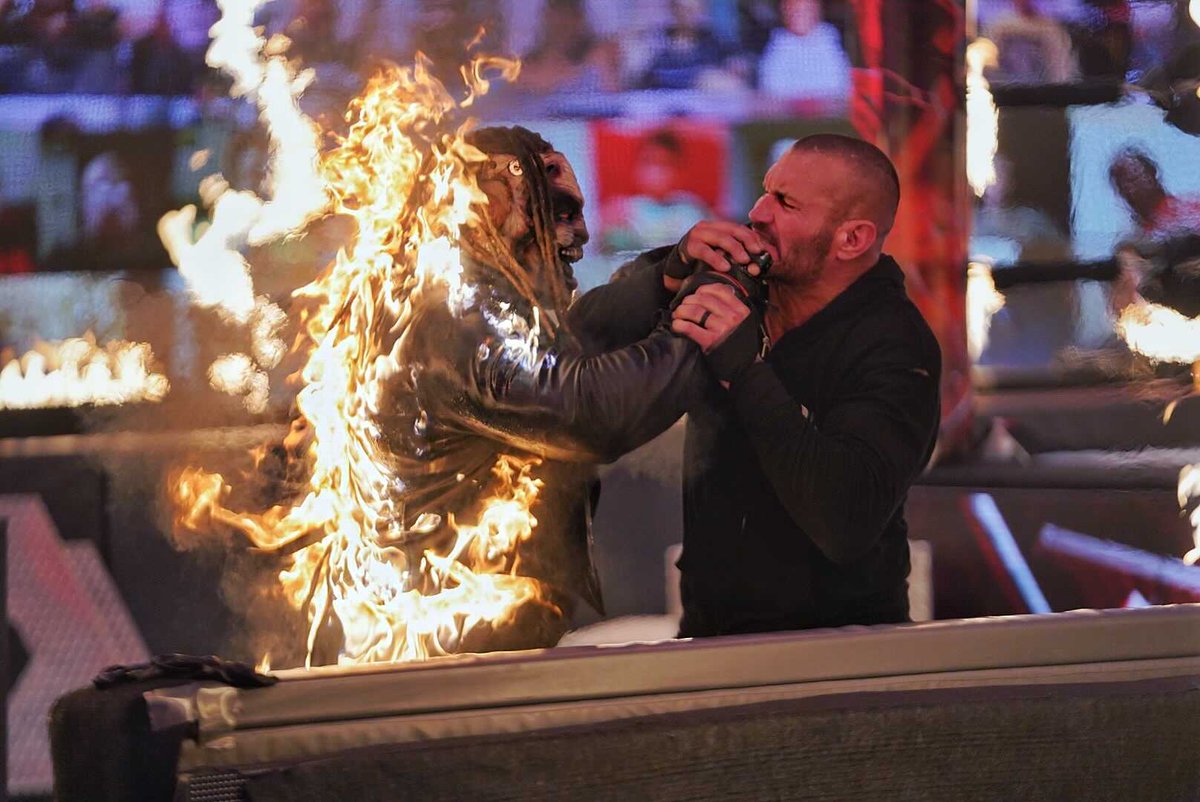 This will definitely be an unpopular opinion. I'm excited for Randy Orton vs The Fiend.
No, I don't regularly watch WWE programming outside of major PPV's. No, I'm not personally someone who values technical ability as higher than pure enjoyment. No, I don't think any of the in-ring product these two will produce will be particularly vibrant.
However last years FireFly FunHouse Match between The Fiend and John Cena was genuinely entertaining. Cinematic matches for some have become overplayed after 2020, but I maintain that they are a worthwhile pallet cleanser amongst a show which focuses primarily on in-ring action (as PPV's should.) A similar picking apart of Orton's career, in the early Fiend's trademark uncomfortably shot and edited style, may be a worthy addition to the last major show of WrestleMania week.
At time of writing, there is no confirmation that this match will indeed be contested under FireFly FunHouse rules. If it is not, may God have mercy on our souls.
There are so many other incredible matches taking place over WrestleMania week that we couldn't list here. Leave a comment down below about a show or matchup that you're looking forward to over the next 7 days, or get in touch with us via our Twitter account @NearfallsMedia.