This article was originally meant for our since cancelled magazine – we thought it was still worth sharing with you! Hopefully this list provides you with some light wrestling viewing.
Wrestling matches come in all shapes and sizes. Short squash matches are the fodder of giants of the ring, while technical wizards are capable of putting on 60-minute classics. With discourse in early 2021 centered around the increasing length of NJPW and STARDOM main events, NEARFALLS thought we could show some love to matches towards the shorter end. This is a list compiled between the members of the NEARFALLS team, with each of us coming up with a top ten, and compiling our shared favourites to make up the bulk of this list. Some will have entries, others will be left for your to discover on your own.
Maki Itoh vs Miyu Yamashita – TJPW 1.4 (4/1/21) (13:05)
KENTA vs Satoshi Kojima – NJPW Wrestle Kingdom Night 1 (4/1/21) (14:12)
Best Friends (Tsukasa Fujimoto/Arisa Nakajima) vs Sareee/Yoshiko – SEAdLINNNG (11/1/21) (16:59)
Emi Sakura vs VENY – AEW Women's Eliminator (15/2/21) (12:30)
Mayu Iwatani vs Yoshiko – STARDOM All Star Dream Cinderella 2021 (3/3/21) (15:09)
Britt Baker vs Thunder Rosa – AEW Dynamite St. Paddy's Day Slam (11/3/21) (16:37)
What a match Britt Baker vs Thunder Rosa was. For me this was the coming out party for Britt. Personally, I didn't connect with Britt at all before this match – I could accept that she was fine in-ring, she was good on the mic and she was great at keeping herself relevant during her injury, however I wasn't engaged by her matches at all.
However, this bloodbath with Thunder Rosa changed all of that and now I'm firmly in the camp of supporting Britt. Whilst the match wasn't exactly the crispest bout that I've ever seen, it more than made up for a lack of style and grace with violence and brutality. The pair made it look like there was a real hatred for one another, and you don't get that if every move looks picture-perfect.
WALTER vs Tommasso Ciampa – NXT Takeover: Stand and Deliver (Night 2) (7/4/21) (16:58)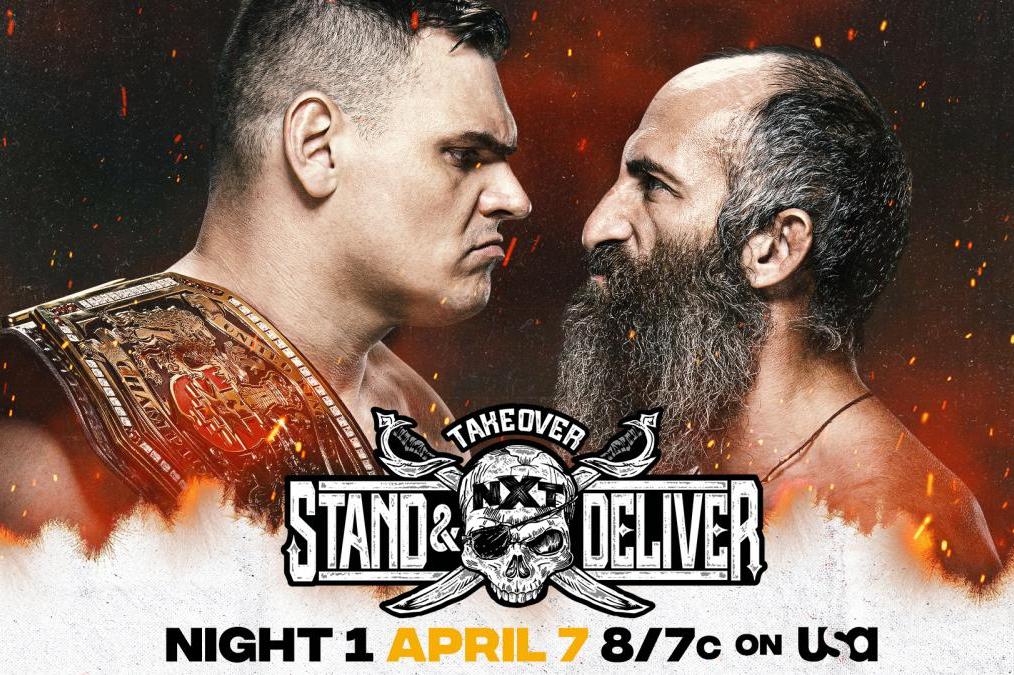 Many people can point to many things that were brilliant with this match, but for me, it was the psychology. Yes, there was the incredible work ethic and technique by two of the best in the industry, but it's in the psychology and storytelling that made this match one of the best of the year, maybe even one of the best of WALTER's whole run as champion. The way he chopped the desk with his dominant hand, which Wade Barrett on commentary sold like it was the end of the world – WALTER then didn't use that hand again for a chop… until the finish. This made it entirely believable that Ciampa had the wind chopped out of him during that final stretch.
This match, like many, took two to tango, and having seen many a tango, this gets a 10 out of 10 in terms of Mattnificence.
Sasha Banks vs Bianca Belair – WWE WrestleMania 37 (Night 1) (10/4/21) (17:16)
SAKI vs Misa Matsui – AWG Yokohama Pro Wrestling Festival 2021 (4/5/21) (18:06)
Chris Brookes vs Saki Akai – DDT Max Bump 2021 (4/5/21) (17:38)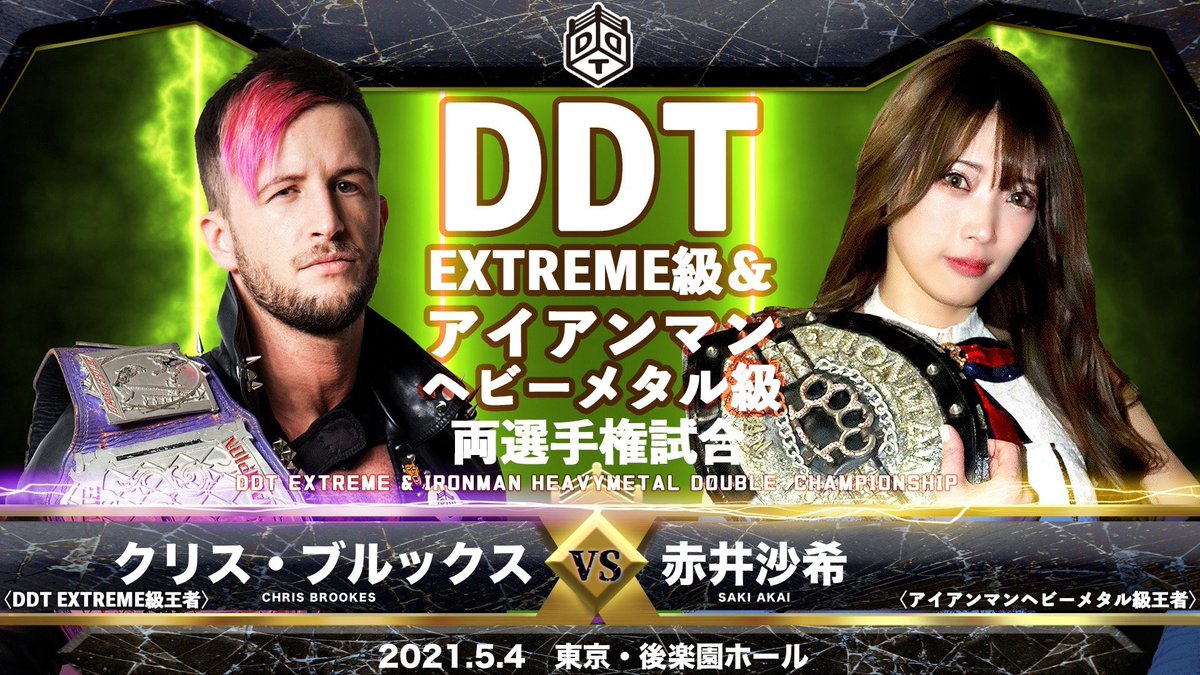 Saki Akai vs Chris Brookes is in a sense everything you want from a pro wrestling match. Saki Akai aimed for her first formal singles title in the company, while Chris Brookes aimed for the belt that truly showcased the DDT style – what happened inside the ring was magic.
Saki attacked early, but Chris quickly gained the momentum – working her over and applying a plethora of submissions that on any other night would have earned him a victory. Saki Akai was on a mission, mounting offense halfway into the match, entering the territory of irresistible force vs immovable object where something would have to give. Each fighter was looking for the move that would swing things in their favour.
Eventually a quick strike and Praying Mantis Bomb sealed the deal for Chris Brookes. While a Saki Akai win would have been great, this result solidified Chris Brookes as someone who will help take DDT to new heights. Saki Akai maintains her position as a cornerstone of DDT, and will have her moment one day.
Rika Tatsumi vs Miyu Yamashita – TJPW Yes! Wonderland 2021 (4/5/21) (15:06)
ASUKA vs Kagetsu – Hana Kimura Memorial Produce Matane (23/5/21) (11:16)
Kaito Kiyomiya/Yoshiki Inamura vs. The 37KAMIINA (Yuki Ueno/Konosuke Takeshita) – Cyberfight Festival 2021 (6/6/21) (17:51)
Miyu Yamashita vs. Yuka Sakazaki – CyberFight Festival 2021 (6/6/21) (16:31)
Miyu Yamashita and Yuka Sakazaki are the dueling faces of Tokyo Joshi Pro Wrestling. They have a rivalry that spans from practically the promotion's inception. This on-off rivalry has brought them to star as one of the three title main events on CyberAgent's large festival showcasing the best of DDT, Pro Wrestling NOAH and Tokyo Joshi Pro Wrestling. An opening of very good chain wrestling quickly evolved into continuous intensive desperate attacks from both women, Yamashita finally putting Sakazaki away – only after a devastating skull kick and two Crash Rabbit Heats.
When your match is alongside legends such as Jun Akiyama vs HARASHIMA and Naomichi Marufuji vs Keiji Muto and your match is the one considered the superior, you certainly have to appear on this list.
Daisuke Harada & Hajime Ohara vs. Hao & Tadasuke – NOAH Cross Over 2021 In Sendai (11/7/21) (18:59)
Jonathan Gresham vs Mike Bennett – ROH Best in the World 2021 (11/7/21) (19:21)
Takuya Nomura vs Yu Iizuka – GLEAT Experimental Match 7th #3 (22/7/21) (15:00)
YAMATO vs Shun Skywalker – Dragon Gate Kobe Pro-Wrestling Festival 2021 – Night 2: Speed Star Final (1/8/21) (18:07)
The Lucha Brothers (Fenix & Pentagon Jr.) (c) vs. Brian Cage & Taurus vs. Los Jinetes del Aire (El Hijo del Vikingo & Laredo Kid) – AAA TripleMania XX1X (14/8/21) (14:29)
Undoubtedly one of the best matches of this year's TripleMania, arguably the best straight-up match on the show only behind the story-laden main event. Penta 0M and Fenix are big stars both abroad and in Mexico, so would definitely provide a boost to both the domestic and international interest in the show overall. With Hijo del Vikingo and Laredo Kid, they have two of the rising talents in Mexico, alongside Taurus and Cage who provide the powerhouse threat, while still being agile enough to keep up with the others.
The match itself is a staple of what to expect in multi-man Lucha Libre matches. The pace is at times frenetic, it imbues a sense that this could end at any moment with one devastating maneuver. It contains the type of high spots that would make Hayabusa proud, taking to the air to inflict as much pain as possible on your opponent. It is controlled chaos at its absolute best. You watch for the Lucha Brothers, but you stay for Vikingo and Laredo Kid.
Dragon Dia/Lee/Estrella vs. Eita/Ishida/HYO – Dragon Gate Dangerous Gate (20/9/21) (12:05)